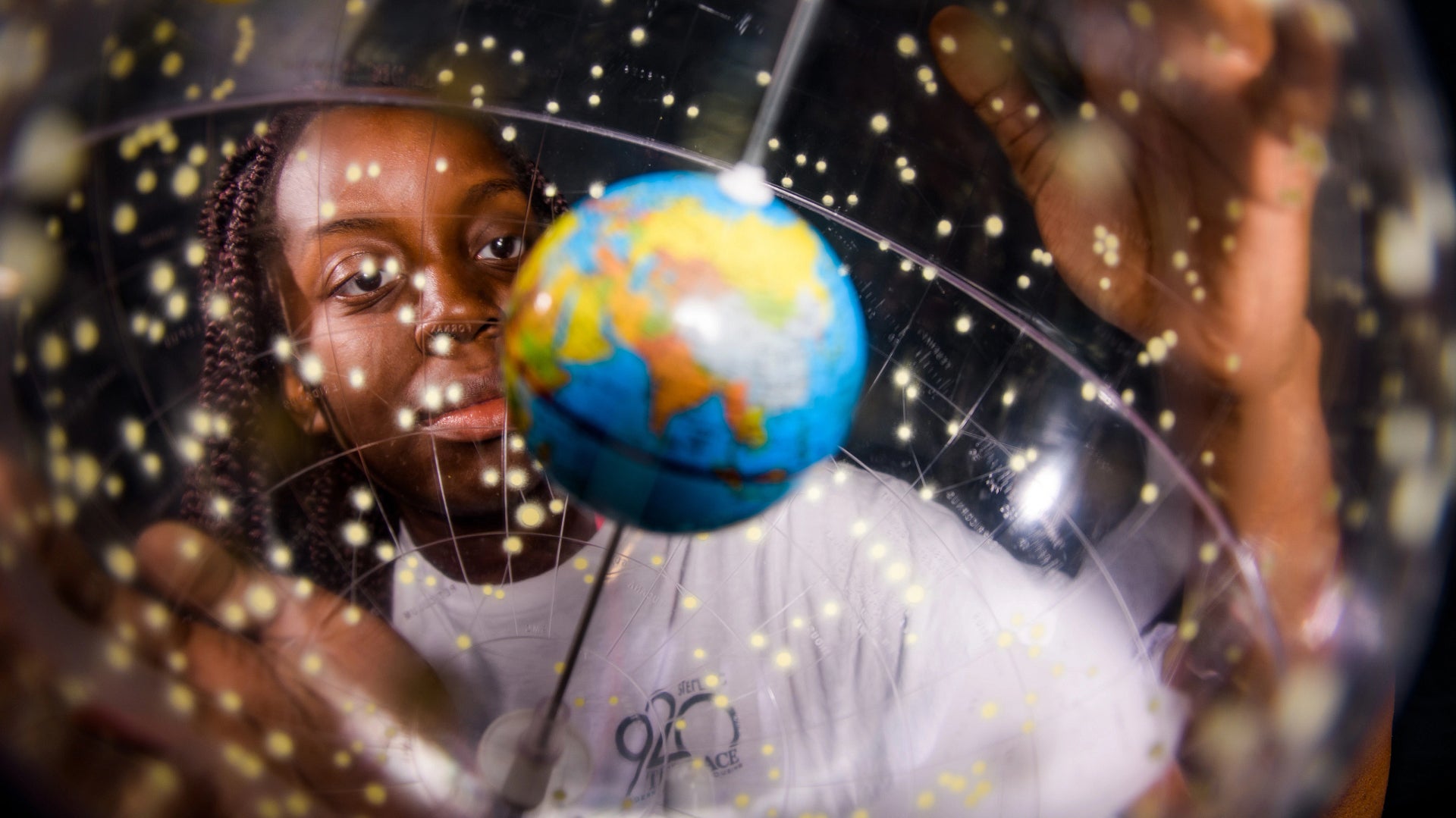 Projects and impact
Faculty at Arizona State University's Mary Lou Fulton Teachers College are among the most accomplished education scholars in the world.
Our research helps shape how teachers teach, how schools operate and how learners learn. It makes a difference. It improves lives. 
MLFTC faculty draw from a wide range of academic disciplines to gain new insight into important questions. Whether developing new education workforce models or leading global conversations on educational outcomes, faculty members at MLFTC are fulfilling the ASU charter's commitment to assume fundamental responsibility for the overall health of the communities we serve.
This knowledge creation is one of the many reasons MLFTC consistently ranks among the country's best colleges of education.
---
Name
Award amount
Award start date

Sort ascending

Award end date
Sponsors
Principal investigator
Link to edit Content
Project aims to identify how African universities foster equitable learning experiences for women
$70,000
January 01, 2024
December 31, 2024
Originating sponsor: National Academy of Education
Direct sponsor: Spencer Foundation
Meseret Hailu
Black girls as creators in the field of AI
$3,206,383
October 01, 2023
September 20, 2028
Direct sponsor: National Science Foundation
Tara Nkrumah
A global futures-oriented research collective on education for advancing sustainability
September 01, 2023
August 31, 2025
Direct sponsor: National Science Foundation
Iveta Silova
Drama-based literacy program expands to focus on the learning outcomes of students with diverse abilities
$399,388
September 01, 2023
August 31, 2025
Direct sponsor: Spencer Foundattion
Katie Bernstein, Scott Marley, Erin Rotheram-Fuller, Lauren van Huisstede
MLFTC supports teacher preparation in the nation of Georgia
$2,501,292
July 03, 2023
April 15, 2028
Originating sponsor: USAID
Direct sponsor: Chemonics International Inc.
Iveta Silova
Fostering STEM instruction at HSIs
$91,987
July 01, 2023
June 30, 2026
Direct sponsor: National Science Foundation
Antonio Duran
Advancing equity in K–12 computer science education policy
$619,035
July 01, 2023
June 30, 2028
Direct sponsor: National Science Foundation
Janice Mak
Planning for solar-powered communities
$50,000
June 01, 2023
November 30, 2024
Direct sponsor: EarthShare
Ruth Wylie
Investigating Hispanic-Serving Institutions' Organizational Commitments to LGBTQ+ Communities: A Multi-Site Case Study at 4-Year HSIs
$3,000
June 01, 2023
December 31, 2024
Direct sponsor: American College Personnel Association
Antonio Duran
Partnership expands access to innovative staffing models in rural Colorado schools
$525,807
June 01, 2023
July 01, 0024
Direct sponsor: Colorado Office of Economic Development and International Trade
Brent Maddin, Andrea LaRocca
School System Innovation Fund advances systemic, student-centered solutions
$5,000,000
April 01, 2023
December 31, 2025
Bree Dusseault
Addressing the global challenge of disability inclusion and education
$299,469
April 01, 2023
June 06, 2025
Arizona data science summit
$35,796
January 01, 2023
April 30, 2023
Direct sponsor: Burton Family Foundation
Janice Mak
ASU and UL Research Institutes partnership
$250,000
January 01, 2023
December 31, 2023
Direct sponsor: UL Research Institutes/Office of Research Experiences and Education
Iveta McGurty Silova
The Oakland REACH liberator project
$150,000
January 01, 2023
December 31, 2023
Direct sponsor: Oakland REACH
Robin Lake
New designs to advance learning
$900,000
January 01, 2023
December 31, 2025
Direct sponsor: Carnegie Corporation of New York
Robin Lake
The Special Education Leaders' Study
$43,400
December 01, 2022
August 31, 2023
Lauren Katzman
MLFTC collaborates on the Teacher Excellence Initiative in Egypt
$2,716,730
December 01, 2022
December 03, 2026
Direct sponsor: United States Agency for International Development
Tanya Pinkerton
Team-based staffing models can make schools work better for both learners and educators
$199,800
December 01, 2022
June 30, 2023
Direct sponsor: The Joyce Foundation
Brent Maddin
Future of K-12 reform book
$161,000
October 01, 2022
September 30, 2023
Direct sponsor: Smith Richardson Foundation
Robin Lake
Walton Renewal 2022
$9,263,205
October 01, 2022
September 30, 2026
Direct sponsor: Walton Family Foundation
Robin Lake
Training and supporting school-community leadership teams in American Indian communities
$1,000,000
September 30, 2022
September 29, 2024
Direct sponsor: U.S. Department of Education
Jill Koyama
NSF Engineering Research Center for the Internet of Things for Precision Agriculture
$150,000
September 01, 2022
August 31, 2025
Originating sponsor: National Science Foundation
Direct sponsor: University of Pennsylvania
Ayesha Boyce
Investigating Relationships between STEM Teacher Preparation, Instructional Quality, and Teacher Persistence
$25,227
August 22, 2022
July 31, 2023
Originating sponsor: National Science Foundation
Direct sponsor: Florida State University
Andrea Weinberg
The politics of district governance and equity among BIPOC school board members
$50,000
August 01, 2022
May 01, 2023
Originating sponsor: The Ford Foundation
Direct sponsor: National Academies of Sciences, Engineering and Medicine
Carrie Sampson
Assessing Principled Innovation ™
$1,674,565
August 01, 2022
July 31, 2025
Nicole Thompson
Local Impact and Social Embeddedness Partnership
$65,000
August 01, 2022
June 30, 2023
Direct sponsor: Valley of the Sun United Way
Alexander Kurz
Strengthening the Teacher Workforce
$300,000
August 01, 2022
January 31, 2024
Bree Dusseault
Furthering understanding of the Black Muslim college student experience
$59,914
August 01, 2022
July 31, 2024
Direct sponsor: Spencer Foundation
Keon M. McGuire
Race, religion and STEM
$550,000
July 01, 2022
June 30, 2025
Keon M. McGuire
Community educators assist in accelerating academic recovery
$7,378,142
June 01, 2022
September 30, 2024
Direct sponsor: Arizona Department of Education
Carole Basile , Brent Maddin, Korbi Adams
Improving childhood health through after-school program
$30,000
April 01, 2022
June 30, 2022
Direct sponsor: Isagenix, ISA Foundation
Pamela Hodges Kulinna
Helping teachers integrate geography and social sciences instruction
$1,189,119
March 01, 2022
February 28, 2025
Direct sponsor: U.S. Department of Education
Karen Guerrero
Advancing solutions-oriented analysis of the K–12 response to COVID-19
$600,000
January 01, 2022
December 13, 2022
Direct sponsor: Bill & Melinda Gates Foundation
Robin Lake
High-quality and equitable experiences for high school students
$1,292,000
October 15, 2021
January 14, 2024
Direct sponsor: Barr Foundation
Chelsea Waite
What do young people need from our education system and are school systems delivering?
$600,000
October 15, 2021
October 14, 2024
Direct sponsor: Oak Foundation
Robin Lake
MLFTC joins $60 million project to improve youth opportunities in Ethiopia
$4,000,000
October 01, 2021
September 30, 2026
Originating sponsor: USAID Ethiopia
Direct sponsor: Amref Health Africa
Molly Ott
Transforming a district's human resources strategy for the benefit of both learners and educators
$8,206,449
October 01, 2021
October 01, 2024
Brent Maddin
Diversifying curriculum in elementary science classes
$931,058
August 15, 2021
August 14, 2024
Direct sponsor: National Science Foundation
Brian Nelson
Improving academic outcomes for English language learners
$115,000
August 01, 2021
July 31, 2022
Direct sponsor: Bill & Melinda Gates Foundation
Cristobal Rodriguez
Preparing American Indian educators to teach in early childhood classrooms
$1,439,017
August 01, 2021
July 31, 2026
Direct sponsor: U.S. Department of Education
Nicole Thompson
Investigating Impact of Different Types of Professional Development on What Aspects Mathematics Teachers Take Up And Use in Their Classroom
$1,980,285
March 01, 2021
June 30, 2022
Direct sponsor: National Science Foundation
Karen Koellner
Increasing Active Transportation to Schools with "Phoenix Walks"
$2,500
January 15, 2021
June 30, 2022
Direct sponsor: Phoenix Cardinals Charities
Pamela Hodges Kulinna
Nuclear Futures Anthology Project
$64,245
January 04, 2021
January 03, 2022
Direct sponsor: New Venture Fund
Ruth Wylie
STEM and Social Capital: Advancing Families through Learning and Doing
$299,787
January 01, 2021
December 31, 2023
Direct sponsor: National Science Foundation
Eugene Judson
Arizona K-8 Consortium: Building CS and CT capacity in rural K-8 education
$299,620
January 01, 2021
June 30, 2022
Originating sponsor: National Science Foundation
Direct sponsor: SciTech Institute
Alexander Kurz
Radical Policy Borrowing: An intensive inquiry into the Higher Diploma Program, a radical reform of instruction and assessment methods in Ethiopia
$51,253
December 01, 2020
November 30, 2021
Direct sponsor: U.S. Department of Education
Atota Halkiyo
Implementation of a Technology-Facilitated Data-Driven Instructional Coaching Model
$77,513
October 01, 2020
September 30, 2024
Originating sponsor: U.S. Department of Education
Direct sponsor: Rutgers University
Alexander Kurz
Transforming the education profession and workplace
$695,858
October 01, 2020
November 01, 2024
Brent Maddin
Professional Learning Library and CEEDAR Learning Resource Provider
$40,000
October 01, 2020
December 31, 2021
Originating sponsor: National Science Foundation
Direct sponsor: University of Florida
Kathleen Puckett
Integrated Child And Youth Development Activity in Uganda
$1,480,747
September 11, 2020
August 11, 2025
Originating sponsor: USAID
Direct sponsor: Education Development Center
Cyndi Giorgis
SBP Collaborative Research: Comunidad de Ciencia - Building Latina STEM interest through community cultural wealth and familial problem-based learning
$484,884
September 01, 2020
August 31, 2025
Originating sponsor: National Science Foundation
Direct sponsor: University of Wisconsin, Oshkosh
Peter Rillero
Developing Preservice Teachers' Algebraic Reasoning Through Pattern Generation Activities
September 01, 2020
August 31, 2021
Direct sponsor: MLFTC internal grant
Mi Yeon Lee
Exploring Active Learning Exercises in Introductory Anatomy and Physiology Courses
September 01, 2020
August 31, 2021
Direct sponsor: MLFTC internal grant
Carla Firetto
Talent, Ambition, Academic Capital and Luck: Research awards and the construction of influence and merit in education
September 01, 2020
August 31, 2021
Direct sponsor: MLFTC internal grant
Jeongeun Kim
Evaluating the Efficacy of an Engineering Education Professional Development for High School Guidance Counselors
September 01, 2020
August 31, 2021
Direct sponsor: MLFTC internal grant
Lydia Ross
An Efficacy Study of the Learning and Teaching Geometry PD Materials: Examining impact and context-based adaptations
$26,429
September 01, 2020
June 30, 2021
Originating sponsor: National Science Foundation
Direct sponsor: University of Colorado
Karen Koellner
Experiences of Black Immigrant Women in Undergraduate Engineering: A basis for understanding
September 01, 2020
August 31, 2021
Direct sponsor: MLFTC internal grant
Meseret Hailu
Foresight and Futures Learning Experiences
$27,750
July 15, 2020
July 14, 2021
Direct sponsor: NSquare
Ruth Wylie
Arizona Educare Research Project (2020-2021)
$71,531
July 01, 2020
June 30, 2021
Direct sponsor: Educare Arizona
Jeanne Wilcox
Quality First Academy Evaluation 2020-2021
$136,000
July 01, 2020
June 30, 2021
Direct sponsor: Southwest Human Development
Jeanne Wilcox
Chandler USD Staff Development and Leadership Training Services
$54,968
July 01, 2020
June 30, 2021
Direct sponsor: Chandler Unified School District
Punya Mishra
Co-Developing Community Energy Engineering After-School Programming with Latinx Youth
$50,000
June 01, 2020
August 31, 2021
Michelle Jordan
Supporting parents and children where they live, work and learn
$150,000
May 01, 2020
April 30, 2021
Direct sponsor: Arizona Public Service Foundation
Meredith Toth
Studying Novice STEM Teachers' Adaptive Capacities Using the Panarchy Model
May 01, 2020
April 30, 2021
Originating sponsor: National Science Foundation
Direct sponsor: Colorado State University
Andrea Weinberg
The Future Substance of STEM Education
April 01, 2020
March 31, 2021
Ariel Anbar
Resubmission Assistance: Understanding current practices and perspectives
March 01, 2020
February 28, 2021
Direct sponsor: National Organization of Research Development Professionals
Sarah Polasky
Fulbright Awards - Singapore
January 07, 2020
May 14, 2020
Originating sponsor: Singapore Ministry of Education
Direct sponsor: International Research and Exchanges Board
Leanna Archambault
Empowering school districts to explore agile staffing models
January 01, 2020
June 30, 2021
Brent Maddin
The Postwar History of Educational Broadcasting: Archival Research
January 01, 2020
December 31, 2021
Originating sponsor: ASU Foundation for a New American University
Direct sponsor: Spencer Foundation
Sherman Dorn
Designing a New Educator Workforce
October 22, 2019
October 21, 2021
Brent Maddin
INSITE: Integrating STEM Into Transition Education for Incarcerated Learners
October 01, 2019
September 30, 2022
Heather Griller Clark
Higher Education Partnership–Morocco
September 30, 2019
September 29, 2024
Direct sponsor: U.S. Agency for International Development
Nicole Thompson, Alex Kurz, Wendy Oakes
Applying Translanguaging Theory to Testing: Designing a new technology-enhanced accommodation for English language learners
September 01, 2019
August 31, 2020
Direct sponsor: MLFTC internal grant
Yi Zheng
MLFTC AmeriCorps Mentoring Program
September 01, 2019
August 31, 2020
Originating sponsor: U.S. Corporation for National and Community Service
Direct sponsor: Arizona Office of the Governor
Erica Mitchell
Democratic Participation Toward Educational Equity in the Era of School Choice
September 01, 2019
August 31, 2020
Direct sponsor: MLFTC internal grant
Carrie Sampson
Sustainability in Whole-of-School Health Programming
September 01, 2019
August 31, 2020
Direct sponsor: MLFTC internal grant
Pamela Hodges Kulinna
Teacher-Student Teams for Community-Based Energy Engineering Projects
September 01, 2019
August 31, 2020
Direct sponsor: MLFTC internal grant
Michelle Jordan
Stepping Into Interdisciplinary Learning with Dramatic Inquiry and 3D Printing
September 01, 2019
August 31, 2020
Direct sponsor: MLFTC internal grant
Kathleen Farrand
Improving Online Learning from Tutorial Dialog Videos
August 16, 2019
August 16, 2020
Direct sponsor: National Science Foundation
Michelene Chi
The School Gardeners' Southwest Desert Almanac: A conference for supporting, sustaining and spreading garden-based science teaching
August 15, 2019
July 31, 2020
Direct sponsor: National Science Foundation
Steven Zuiker
Project SCREEN: Validation of a Free-Access Screening Tool for K-12 Educators to Screen Students for Internalizing and Externalizing Behavior Patterns
July 01, 2019
June 30, 2022
Originating sponsor: U.S. Department of Education
Direct sponsor: University of Kansas
Wendy Oakes
Project ENHANCE: Research Networks Focused on Critical Problems of Policy and Practice in Special Education
July 01, 2019
June 30, 2024
Originating sponsor: U.S. Department of Education
Direct sponsor: University of Kansas
Wendy Oakes
Teacher Candidate Pilot Documentation
May 20, 2019
April 30, 2020
Nicole Thompson
Consortium for Open Active Pathways
March 01, 2019
February 28, 2022
Direct sponsor: U.S. Department of Education
Ariel Anbar
Cultivating Elementary Students' Interest in Cryptography and Cybersecurity Education and Careers
March 01, 2019
February 28, 2022
Originating sponsor: National Science Foundation
Direct sponsor: University of Florida
Amber Benedict
Special Education Leader Scholar Communities (SELSC)
January 01, 2019
December 31, 2023
Direct sponsor: U.S. Department of Education
Kathleen Puckett
Strengthening Higher Education Access in Malawi Activity (SHEAMA)
$12,859,815
December 04, 2018
December 03, 2023
Direct sponsor: U.S. Agency for International Development
Samuel DiGangi
2018-2019 Fulbright Distinguished Awards in Teaching Program
December 01, 2018
June 30, 2019
Direct sponsor: International Research and Exchanges Board
Ann Nielsen
Reimagining the Education Workforce for the 21st Century: Preparing teachers through personalized learning modules and diversified clinical experiences
October 01, 2018
September 30, 2023
Direct sponsor: U.S. Department of Education
Carole Basile (Dean)
Supporting Early Language Development of Preschool Children with Drama Integration
$2,291,598
October 01, 2018
September 30, 2022
Direct sponsor: U.S. Department of Education
Scott Marley
Productive Management of Uncertainty: Supporting science teachers to raise, maintain and reduce uncertainty toward student conceptual development in argumentation
September 01, 2018
August 31, 2019
Direct sponsor: MLFTC internal grant
Ying-Chih Chen
Teacher Candidate Affordances and Perceptions of Efficacy in Collectively-Taught Elementary and Typical Student Teaching Settings
September 01, 2018
August 31, 2019
Direct sponsor: MLFTC internal grant
Andrea Weinberg
The Lived Experiences of Black Muslim Students Attending a Predominantly White Institution
September 01, 2018
August 31, 2019
Direct sponsor: MLFTC internal grant
Keon McGuire
Is Taste for Science Enough? Exploring factors that influence career aspirations of engineering students
September 01, 2018
August 31, 2019
Direct sponsor: MLFTC internal grant
Jeongeun Kim
Mary Lou Fulton Teachers College AmeriCorps
September 01, 2018
August 31, 2019
Originating sponsor: U.S. Corporation for National and Community Service
Direct sponsor: Arizona Office of the Governor
Jacqueline Loonstra
Building Bridges of Black and Brown Solidarity
September 01, 2018
August 31, 2019
Direct sponsor: National Academy of Education
Claudia Cervantes Soon
Supporting Undergraduate Students' Construction of an Integrated Understanding of Anatomy and Physiology
September 01, 2018
August 31, 2019
Direct sponsor: MLFTC internal grant
Carla Firetto
Discourse as Destiny in Dual Language Education? A multi-scalar ethnography of language policy
September 01, 2018
August 31, 2019
Direct sponsor: MLFTC internal grant
Katie Bernstein
Teacher Beliefs about Multilingual Learners: Understanding language ideologies to inform how we teach about language learning
September 01, 2018
August 31, 2019
Direct sponsor: MLFTC internal grant
Kate Anderson
Exploring Writing Instruction Delivered by Teachers Providing Services to Student
August 01, 2018
July 31, 2022
Originating sponsor: U.S. Department of Education
Direct sponsor: Texas State University
Steve Graham
Quality First Academy Evaluation
July 01, 2018
June 30, 2019
Direct sponsor: Southwest Human Development
Jeanne Wilcox
Productive Management of Uncertainty: Supporting science teachers to raise, maintain and reduce uncertainty toward student conceptual development in argumentation
July 01, 2018
June 30, 2019
Ying-Chih Chen
Efficacy of We-Write - A Teacher-Led and Computer-Supported Intervention with Fourth Grade Students
July 01, 2018
June 30, 2022
Originating sponsor: U.S. Department of Education
Direct sponsor: Texas A&M University
Karen Harris
Innovations in Global Learning Metrics for Policymakers
June 15, 2018
December 31, 2018
Direct sponsor: Open Society Foundation
Iveta Silova
Discourse as Destiny in Dual Language Education? A Multi-scalar Ethnography of Language Policy
June 01, 2018
November 01, 2018
Katie Bernstein
The Lived Experiences of Black Muslim Students Attending a Predominantly White Institution
May 01, 2018
March 31, 2019
Keon McGuire
Is 'Taste for Science Enough'? Exploring factors that influence career aspirations of engineering students
May 01, 2018
September 30, 2019
Jeongeun Kim
Explaining the Gender Gap: Are departmental and institutional characteristics linked to labor market outcomes of STEM graduates?
January 01, 2018
December 31, 2019
Direct sponsor: American Educational Research Association
Jeongeun Kim
Exchange Program for Brazilian Awarded Principals
January 01, 2018
February 28, 2018
Ann Nielsen
Raising the Bar
January 01, 2018
December 31, 2020
Originating sponsor: Australian Research Council
Direct sponsor: Australian Catholic University
Steve Graham
Character Education in Systems of Teacher and Leader Preparation
November 07, 2017
October 31, 2021
Originating sponsor: Kern Family Foundation
Direct sponsor: ASU Foundation
Carole Basile (Dean)
Innovations in Global Learning Metrics: Focused debate between users, producers and researchers
October 01, 2017
June 30, 2018
Gustavo Fischman
Building Leadership for Change through School Immersion Program
October 01, 2017
January 31, 2019
Iveta Silova
West Bank-Gaza Preservice Teacher Education Project
September 28, 2017
September 27, 2022
Originating sponsor: United States Agency for International Development
Direct sponsor: International Research and Exchanges Board
Samuel DiGangi
Induction Experiences for Early Childhood Special Educators: Using dramatic inquiry to increase student engagement and positive social interactions (DIPSI)
September 01, 2017
August 31, 2018
Direct sponsor: MLFTC internal grant
Wendy Oakes
Public High School Physical Activity Facility Use During Non-School Hours
September 01, 2017
August 31, 2018
Direct sponsor: MLFTC internal grant
Hans Van Der Mars
Advancing the Understanding of Online Collaborative Learning Experience in Statistical Learning
September 01, 2017
August 31, 2018
Direct sponsor: MLFTC internal grant
Yi-Chun Hong
Toward Establishing Evidence of External Validity for the Intersectional Competence Measure
September 01, 2017
August 31, 2018
Direct sponsor: MLFTC internal grant
Mildred Boveda
Braincandy: Providing students authentic, engaging and SAFE spaces to articulate and refine their thinking with others
September 01, 2017
August 31, 2018
Direct sponsor: MLFTC internal grant
Bryan Henderson
Immigrants, Achievement and Third-Generation Isolation: Insights from PISA 2003-2012
September 01, 2017
August 31, 2018
Direct sponsor: MLFTC internal grant
Jeanne Powers
Teachers' Perceptions of Instructional Significance for History
September 01, 2017
August 31, 2018
Direct sponsor: MLFTC internal grant
Lauren Harris
2017 Argentina Educators Training Program
August 21, 2017
December 31, 2017
Originating sponsor: Argentina Ministry of Education
Direct sponsor: American Councils for International Education
/node
An Efficacy Study of Strategies and Interactive Writing Instruction
August 01, 2017
July 31, 2017
Originating sponsor: U.S. Department of Education
Direct sponsor: University of Tennessee
Steve Graham
Cultivating Life in the Sonoran Desert
August 01, 2017
July 31, 2019
Molina Walters
Girls Collaborating in STEM through Virtual Exchanges
$108,278
July 07, 2017
December 31, 2018
Originating sponsor: U.S. Department of Education
Direct sponsor: The Aspen Institute
Peter Rillero
Project Coordinate
July 01, 2017
June 30, 2022
Originating sponsor: U.S. Department of Education
Direct sponsor: University of Florida
Amber Benedict
Keys to Writing Smarter: An Online UDL Writing Workbench for Students with High Incidence Disabilities
July 01, 2017
June 30, 2020
Originating sponsor: U.S. Department of Education
Direct sponsor: Center for Applied Special Technology
Karen Harris
SRSD+: Development of a Powerful Writing Program for Children in Grades 1 and 2
July 01, 2017
June 30, 2018
Originating sponsor: U.S. Department of Education
Direct sponsor: University of California, Irvine
Karen Harris
YouLead — Youth Employment and Business Start Up Program
June 06, 2017
April 30, 2021
Ann Nielsen
Sonoran Desert Citizen Science: Building Nature Stewards
May 01, 2017
April 30, 2018
Mo Walters
Year 2 Navajo Nation
March 01, 2017
February 28, 2018
Originating sponsor: U.S. Department of Education
Direct sponsor: Navajo Nation
Carole Basile (Dean)
Stepping into STEM with Dramatic Inquiry
January 19, 2017
August 18, 2017
Originating sponsor: 100K in 10
Direct sponsor: ASU Foundation
Kathleen Farrand
Collaboration for Effective Educator Development, Accountability and Reform (CEEDAR)
January 01, 2017
December 31, 2020
Originating sponsor: U.S. Department of Education
Direct sponsor: Arizona Department of Education
Kathleen Puckett
Educational Merit on a Global Stage
October 01, 2016
June 30, 2017
Originating sponsor: Spencer Foundation
Direct sponsor: Loyola University
Iveta Silova
EAGER: MAKER: Play in the Making: Supporting Design Thinking in Maker Spaces and Underrepresented, Underserved, and Minority Students Through Game Design
October 01, 2016
September 30, 2018
Elisabeth Gee
Advancing Computerized Adaptive Testing Through Participant-Based Research and Open-Source Platform Tools
September 01, 2016
August 31, 2017
Direct sponsor: MLFTC internal grant
Yi Zheng
Long-Term Teacher-School Matching Algorithm
September 01, 2016
August 31, 2017
Direct sponsor: MLFTC internal grant
Margarita Pivovarova
Phoenix Union High School District-ASU Principal Professional Development Pilot
September 01, 2016
May 31, 2018
Originating sponsor: Arizona Board of Regents
Direct sponsor: Phoenix Union School District
Carl Hermanns
Building Learning Experiences with Design Thinking, Creativity and Entrepreneurship: A study of 3 Day Startup
September 01, 2016
August 31, 2017
Direct sponsor: MLFTC internal grant
Danah Henriksen
Supporting Preservice Teachers to Implement Argumentation in Science Classrooms
September 01, 2016
August 31, 2017
Direct sponsor: MLFTC internal grant
Ying-Chih Chen
Improving Preservice Teachers' Noticing Expertise and Beliefs Through Methods Courses Incorporated Technology
September 01, 2016
August 31, 2017
Direct sponsor: MLFTC internal grant
Mi Yeon Lee
Harnessing Interdisciplinary Research to Examine the Relationship between Student Voice and School Change toward Equity
September 01, 2016
August 31, 2017
Direct sponsor: MLFTC internal grant
Melanie Bertrand
Teacher Evaluation Systems as Based upon Growth and Value-Added Models after the Every Student Succeeds Act: A national overview revisited
September 01, 2016
August 31, 2017
Direct sponsor: MLFTC internal grant
Audrey Amrein-Beardsley
Strengthening Instructional Leadership in Mathematics in Pinal County
August 16, 2016
September 30, 2017
Originating sponsor: U.S. Department of Education
Direct sponsor: Arizona Board of Regents
Mari Koerner
Strengthening Institutional Linkages — ASU and Kwame Nkrumah University of Science and Technology (KNUST) in Kumasi, Ghana
August 01, 2016
July 31, 2022
Carole Basile
Improving Teacher Capacity to Implement High Quality Service-Learning in Elementary Science Classrooms
August 01, 2016
June 30, 2018
Originating sponsor: University of Virginia
Direct sponsor: U.S. Department of Education
Eileen Merritt
EYEPlay for Dual Language Learners: Focus on Orange County Public Preschools, Orlando Florida
July 01, 2016
June 15, 2020
Originating sponsor: Helios Education Foundation
Direct sponsor: The Orlando Repertory Theatre
Michael Kelley
HealthWorks Fitness for Life Project (Year 4)
July 01, 2016
June 30, 2017
Pamela Hodges Kulinna
Impact of ST Math Professional Development on Teachers' Implementation of Fraction Instruction
July 01, 2016
June 30, 2018
Originating sponsor: APS Foundation
Direct sponsor: MIND Research Institute
Barbara Kinach
The Desirability and Feasibility of Global Learning Metrics-Symposium
June 01, 2016
December 31, 2016
Originating sponsor: Open Society Institute Budapest Foundation
Direct sponsor: ASU Foundation
Iveta Silova
Professional Development of Educators
May 01, 2016
April 30, 2019
Originating sponsor: U.S. Department of Education
Direct sponsor: Navajo Nation, Division of Diné Education
Connie Pangrazi
An Analysis of Teachers' Career Paths in Arizona: Retention, Mobility, and Attrition
March 01, 2016
May 31, 2017
Originating sponsor: American Educational Research Association
Direct sponsor: ASU Foundation
Jeanne Powers
Psychometric Advisory for Maricopa Community Colleges Math Diagnostic Assessment Project
March 01, 2016
June 30, 2016
Yi Zheng
EYEPlay for Dual Language Learners
$721,000
November 01, 2015
September 30, 2019
Michael Kelley
West Comprehensive Center Year 4
October 01, 2015
May 31, 2016
Originating sponsor: U.S. Department of Education
Direct sponsor: WestEd
Jeanne Powers
NEXT TQP Evaluation Extension
October 01, 2015
September 30, 2018
Nancy Perry
RISE-IT (Reentry Intervention and Support for Engagement by Integrating Technology)
October 01, 2015
September 30, 2018
Sarup Mathur
State Personnel Development Grants
October 01, 2015
September 30, 2020
Originating sponsor: U.S. Department of Education
Direct sponsor: Arizona Department of Education
Pamela Hodges Kulinna
Identifying and Addressing Mathematical Difficulties in Introductory Physics
September 01, 2015
August 31, 2017
David Meltzer
International Leaders in Education Program
September 01, 2015
June 15, 2016
Originating sponsor: International Research and Exchanges Board
Direct sponsor: US Department Of State – Bureau of Education and Cultural Affairs
Kyle Messner
Mary Lou Fulton Teachers College AmeriCorps Project
September 01, 2015
August 31, 2016
Originating sponsor: U.S. Corporation for National and Community Service
Direct sponsor: Arizona Office of the Governor
/node
Teaching the Crosscutting Concept of Emergent Cause-and-Effect to Overcome Misconceptions
August 16, 2015
August 15, 2019
Michelene Chi
Developing and Revising Instructional Activities to Optimize Cognitive Engagement
August 16, 2015
August 15, 2019
Michelene Chi
Learning from Dialog versus Monolog Videos
July 13, 2015
July 12, 2017
Michelene Chi
Quality First Coaching Academy - Year 3
July 01, 2015
June 30, 2016
Jeanne Wilcox
Motivating Bilingual Hispanic Youth Towards STEM and STEM Cognate Study and Careers (MIO STEM)
$1,199,011
July 01, 2015
July 30, 2017
Sasha Barab
SFY 2016: Learner Outcomes
July 01, 2015
June 30, 2016
/node
Implementing Comprehensive, Integrated, Three-Tiered Models to Meet Students' Academic, Behavior, and Social Needs: A Research-Practitioner Partnership
July 01, 2015
June 30, 2017
Originating sponsor: U.S. Department of Education
Direct sponsor: University of Kansas
Wendy Oakes
Flipping Into Science: Teachers and Principals Working Together: A Team Approach to Implementing AZCCRS in Science
July 01, 2015
September 30, 2016
Dale Baker
The Ecology and History of the Sonoran Desert
May 21, 2015
May 20, 2018
Mo Walters
Helios Third Grade Reading Project
February 01, 2015
May 15, 2016
Originating sponsor: The Helios Foundation
Direct sponsor: WestEd Agency
Jeanne Powers
iTeachAZ Community Embeddedness
January 01, 2015
May 31, 2018
Mari Koerner
iTeachAZ, Gila Valley
December 01, 2014
November 30, 2018
Originating sponsor: Freeport-McMoRan Copper and Gold
Direct sponsor: ASU Foundation
Game-Infused Assessment: Cultivating Engaged and Purposeful Test Takers
October 14, 2014
January 31, 2016
Sasha Barab
Integrating STEM Literacy and Language to Prepare All Teachers to Teach ELL: iTeachELLs
October 01, 2014
September 30, 2019
Mari Koerner
Innovations for Success@ASU to Improve Learning Outcomes, Increase Affordability, and Reduce Time to Degree Completion
October 01, 2014
September 30, 2018
Jeanne Wilcox
For Whom and to What End is Educational Research Ultimately Directed? An Analysis of Knowledge Mobilization Strategies Developed by Schools of Education
September 01, 2014
December 31, 2016
Gustavo Fischman
AISL Pathways: The Role of Story in Games to Teach Computer Science Concepts to Middle School Girls
September 01, 2014
August 31, 2016
Elisabeth Gee
Early Care and Education of Dual Language Learners
September 01, 2014
July 31, 2016
Eugene Garcia
Intel She Will Connect Initiative
March 04, 2014
April 30, 2016
Sasha Barab
Arizona College and Career Ready Standards (AZCCRS): Strengthening Instructional Leadership in Mathematics – A Collaborative Approach
$250,000
February 01, 2014
September 30, 2016
Originating sponsor: Arizona Board of Regents
Direct sponsor: Northern Arizona University
Carl Hermanns
Planting the Seed: Engaging, Educating, and Advancing Teachers in STEM and Common Core
December 01, 2013
August 31, 2018
Originating sponsor: U.S. Department of Education
Direct sponsor: National Institute for Excellence in Teaching
Nancy Perry
Feedback as an Element of Designed Environments
September 01, 2013
August 31, 2016
Sasha Barab
Preparing Early Childhood Special Educators for Arizona
August 01, 2013
July 31, 2018
Wendy Oakes
Development of a Web-Based Writing Partner (We-Write Persuasively) To Improve Writing Persuasive Essays for 5th Grade Students
July 01, 2013
June 30, 2016
Originating sponsor: U.S. Department of Education
Direct sponsor: Texas A & M University
Karen Harris
In-STEP (Shikshak Quest Arizona State)
June 28, 2013
April 30, 2016
Samuel DiGangi
E.W. Gordon MacArthur Foundation for 21st Century Learning and Assessment
February 01, 2013
January 31, 2016
James Gee
Project RISE: Re-Entry Intervention and Support for Engagement
December 19, 2012
December 31, 2016
Sarup Mathur
WIDER: EAGER: Recognizing, Assessing and Enhancing Evidence-Based Practices in STEM at Arizona State University
September 15, 2012
August 31, 2016
David Meltzer
Verde Health Initiative: Fitness for Life
May 16, 2012
December 31, 2015
Pamela Hodges Kulinna
Implementing Guided Inquiry in Diverse Institutions
January 01, 2012
December 31, 2015
Originating sponsor: National Science Foundation
Direct sponsor: University of Florida
Mirka Koro-Ljungberg
Efficacy Trials with a New Early Language and Literacy Curriculum for Preschool Children with Developmental Speech and/or Language Impairment
February 01, 2011
June 30, 2016
Jeanne Wilcox
Arizona Ready-for-Rigor Project
October 01, 2010
September 30, 2016
Virginia McElyea
Evaluation Phase of PDS Next rTEP W TAP
$24,701,116
December 01, 2009
September 30, 2018
Jeanne Wilcox
Fulbright Distinguished Awards in Teaching Program for International Teachers 2021
Originating sponsor: U.S. Department of State
Direct sponsor: International Research and Exchanges Board
Alejandra Enriquez Gates, Leanna Archambault
Including Brazil in K-12 social studies curricula
Direct sponsor: U.S. Department of Education
Gustavo Fischman, Glen Goodman