Support to understand your finances and answer your financial questions. Help prevent roadblocks and ensure you complete your degree.
MLFTC's financial coaches work with you to strengthen and support your financial literacy. This includes hosting financial aid workshops for you and your parents — including sessions on how to manage student debt — and how to reduce it by filling out the Free Application for Federal Student Aid and applying for scholarships, loans and grants.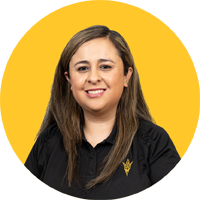 Carmen Zavala
What is financial coaching?
A financial coach helps with confidence related to your ability to acquire and utilize financial resources for the purpose of paying tuition and fees associated with your enrollment, as well as ancillary costs like books, supplies, housing, meals and transportation.  
Our MLFTC financial coach does this in a variety of ways, including one-on-one consultations, emails, social media, group presentations and workshops. As we work together, your financial coach will provide you with a clear path, including the end goal and intermediary steps along the way.
Related links and resources
MLFTC resources
ASU resources
Other resources
Frequently asked questions
| Question/Concern/Need | Who to contact: |
| --- | --- |
| For support in searching for additional scholarships, grants | Visit the following site for tips and tricks on applying for scholarships: https://admission.asu.edu/parent-blog/financial/skinny-scholarships |
| Questions about MLFTC scholarships, the Arizona Teachers Academy and other state funding programs benefitting MLFTC students | Contact Jezabel Teston, ATAaward@asu.edu, 480-727-5279 |
| For information regarding federal and private student loans, including the Parent PLUS | Please contact the ASU Financial Aid office, call 855-278-5080, chat online with a rep or submit a case, https://students.asu.edu/financial-aid |
| For questions about My ASU account charges | Contact Student Business Services, 480-965-5220 |
| General questions about the Federal TEACH Grant | Please visit: https://students.asu.edu/grants/teach |
| For help creating and maintaining a budget and/or building a positive credit history | Make a Financial Planning appointment with the MLFTC Financial Coach, https://calendly.com/mlftc-financial-coach/financial_planning |
| For support in searching for additional resources to pay for summer tuition | links.asu.edu/mlftcSOSform |
| For support in determining how to submit a Satisfactory Academic Progress appeal | Please contact the ASU Financial Aid office, call 855-278-5080, chat online with a rep or submit a case,https://students.asu.edu/financial-aid |
| For support in determining how to submit a scholarship appeal, reinstatement or deferment | Please contact the ASU Financial Aid office, call 855-278-5080, chat online with a rep or submit a case, https://students.asu.edu/financial-aid |
| How will withdrawing from classes impact financial aid | Please contact the ASU Financial Aid office, call 855-278-5080, chat online with a rep or submit a case, https://students.asu.edu/financial-aid |
| Need to withdraw from classes due to financial concerns | links.asu.edu/mlftcSOSform |
| Inability to register for an upcoming semester due to an enrollment hold | Contact a Financial Coach, https://calendly.com/mlftc-financial-coach |
| Loan repayment and qualifying for loan forgiveness | Please contact the ASU Financial Aid office, call 855-278-5080, chat online with a rep or submit a case, https://students.asu.edu/financial-aid |
| Fulfilling the ATA's agreement, TEACH Grant's agreement to serve or the Arizona Teacher Student Loan Program after graduation | Contact Jezabel Teston, ATAaward@asu.edu,  480-727-5279 |
| Prospective students' questions regarding how much their education will cost | MLFTC Recruiting, Phone: 480-965-9995, Email: ASUeducation@asu.edu |
| A complex financial issue that falls outside the categories listed above | https://asuacademicaffairs-advocate.symplicity.com/care_report/index.php/pid667111? |
| Signature on the NES Waiver | Arizona Teachers Academy (ATA) recipients should submit a copy of the waiver request to ATAaward@asu.edu. Non-ATA recipients should submit a copy of the waiver request to FASS@asu.edu. |
| Help filing the FAFSA | Make a Financial Planning appointment with the MLFTC Financial Coach, https://calendly.com/mlftc-financial-coach/financial_planning |