Wellness coaching is a free service available to MLFTC students that can help you learn to prioritize your self-care, maintain a positive and healthy mindset, build resilience skills and overcome challenges. Wellness coaching can also help you reframe a challenging situation to view it as a growth opportunity.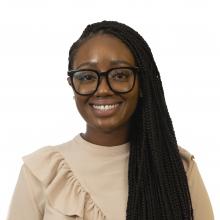 Natoya Brown
The MLFTC wellness coach offers wellness events, workshops and presentations that help you explore and learn more about your well-being. Once you discover what you enjoy and what works for you, you can incorporate those activities into your lifestyle.
Wellness for MLFTC students is twofold: When you learn to prioritize your well-being, you'll be prepared to model a healthy lifestyle to your future students. You are also able to plan and coordinate wellness activities in your classroom and other educational settings. It's truly a win-win — you learn wellness so your future students can, too!
Wellness programming
We offer wellness programming to students, student organizations and faculty and staff. Request information about an individual topic area, or request a wellness program for a classroom or student organization.
Related links and resources
These resources are listed as a courtesy; they are not officially endorsed by Arizona State University.
Live well with technology 
Source: Jodie Donner via wakelet.com
View a list of technology solutions that promote wellness, curated by Lead Technology Strategist Jodie Donner.
Daring classrooms 
Source: brenebrown.com
Explore resources for teachers developed by Brené Brown, based on her book Dare to Lead.
What's the difference between wellness coaching and counseling?
Coaching and counseling can be easily confused. Here are the differences between these two student services.
| | |
| --- | --- |
| Wellness coaching | Counseling |
| A service offered only to Mary Lou Fulton Teachers College students.  | A service offered to all ASU students through ASU's Counseling and Consultation Services. |
| Wellness coaching is for less urgent, non-emergency and non-crisis situations. Appointments are required and are available at Tempe, Polytechnic and West campuses, Monday through Friday, 8 a.m. –  5 p.m. | ASU Counseling offers immediate access to services to ensure that all students who request or need services can be seen the same day — no appointment is necessary. Counseling services are available at all campus locations, Monday through Friday, 8 a.m. – 5 p.m. If assistance is needed outside of business hours, call EMPACT's 24-hour ASU-dedicated crisis line at 480-921-1006. Or use the crisis text line by texting HOME to 741741. |
| Private — Information shared during wellness coaching is private but not confidential. What is disclosed may be shared with internal staff on a need-to-know basis to help resolve an issue and provide coordinated care. This service adheres to the Family Educational Rights and Privacy Act. | Confidential — ASU counseling offers confidential services to students (see their disclosure statements to limits of confidentiality). This service adheres to the Health Insurance Portability and Accountability Act. |
| Coaching tends to focus on the present and future rather than the past. | Tends to focus on healing and understanding the past.  |
| Helps students identify their strengths, goals and obstacles using a positive, active approach. | Helps students increase insight and self-awareness by identifying the root causes of issues and problematic thinking.  |
| Provides brief, solution-focused guidance and support and serves as an accountability partner, empowering students to do more than they might on their own. | Meets students where they are on their self-discovery journey and joins them in resolving and managing their concerns.   |
| Aims to motivate students, offer emotional support and confidence-building for issues impacting achievement of academic and personal goals. | Provides therapeutic services for students experiencing emotional concerns, problems in adjusting and other factors that affect achievement of academic and personal goals.  |
| Call 480-965-5555. | |
Other frequently asked questions
I've come to three or four Wellness Wednesday events. I like that it's a space where you can keep to yourself and take a break from school — and where you can meet a lot of nice people, too.
I enjoy it every time I come. I like that it is focused on wellness and being mindful. I think it's an amazing opportunity.