Long Beach City College collaborates with ASU's Mary Lou Fulton Teachers College to build leadership teams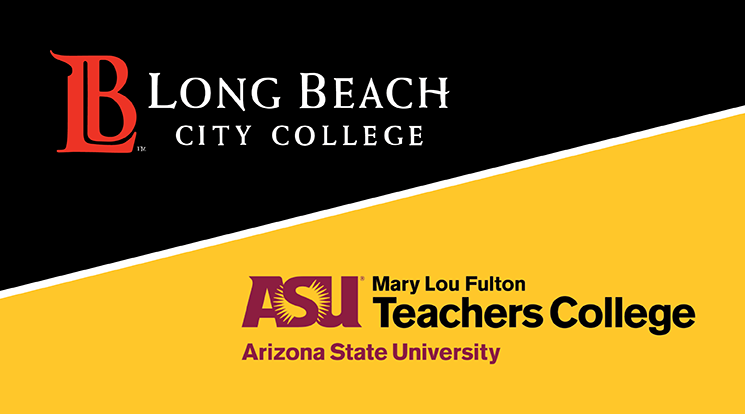 Through a collaboration with Long Beach City College (LBCC), which is among the largest community colleges in California, ASU's Mary Lou Fulton Teachers College (MLFTC) is offering its Leadership and Innovation, EdD program in a customized format for a cohort of LBCC faculty and staff. 
The established MLFTC program is known for its  action-research approach to addressing education systems needs through a blend of research-based techniques and practical application. LBCC is committed to serving its diverse student population by strengthening equitable access to academic and professional pathways, and developing the college's leadership capacity is key to advancing that goal. 
"Developing internal leadership capacity allows for individuals and teams to work seamlessly across divisions and departments on behalf of students and our college mission," says Superintendent-President of the Long Beach Community College District, Mike Munoz. "That's why it's important for us to ensure our internal teams have access to high quality professional development opportunities that support leadership development for their current roles, as well as for future roles."
The collaboration also reflects ASU's growing presence in California and other locations nationwide. This summer, LBCC opened an ASU Local center at the college. The ASU Local centers offer students on-site academic and transfer supports to pursue a variety of ASU degrees.
Developing leaders through access to a quality education
The creation of the 18-member cohort at the college developed from conversations between LBCC and MLFTC leadership this Spring at an education conference.
"ASU is well known as a provider of quality online education, and that combination of offering a strong curriculum and technological supports for students who learn remotely made the university a good partner for us," says Director of Special Projects at LBCC, Erin Murphy, 
MLFTC's Leadership and Innovation, EdD program has been customized to LBCC's needs and includes the following program features: 
Hybrid learning:

Students take their courses remotely to accommodate their personal and work schedules. The cohort is brought together for on-site meetings at the college and will also go to ASU in Arizona for an educational workshop.

Learn as you work:

Students participate in the cohort as they continue in their jobs, removing barriers to access.

Designated ASU contact:

A designated MLFTC faculty advisor works with a counterpart at LBCC to streamline communications and quickly address needs and access to student resources, including MLFTC's

student success coaches

.

Customized curriculum:

  The curriculum is based on the theory and foundations of educational leadership, with an emphasis on issues relevant to post-secondary education most aligned with LBCC's organizational focus

Action research:

Students also contribute insight through their dissertation cycles in ways that combine

theoretical research with practical application on a current problem of practice

or immediate need.

MLFTC's EdD program, with its action research focus, has been recognized as a

Program of the Year

by the Carnegie Project on the Education Doctorate.
"We were drawn to the EdD program's emphasis on action research," says LBCC Chief Innovation Officer, Tracy Carmichael. "Students define the question they wish to explore, and then they have the opportunity to really lean into their problems of practice to investigate imperative issues that are not only close to their heart, but also bring value to the college as a whole." 
Other customized cohorts developed in Arizona and Guyana
In support of the customized cohort, LBCC's president and members of the executive leadership team held a reception in August to congratulate the new cohort members and to share their own experiences as doctoral students, reinforcing the value of pursuing an advanced degree. 
Participants represent a range of institutional departments and experiences, including staff from human resources, managers of various programs, and faculty who teach a range of subjects. Funding sources for the customized cohorts vary.  At LBCC, scholarships for the cohort program are supported through funds from a generous $30 million donation from philanthropist MacKenzie Scott. All cohorts are designed to be accessible with resources from a combination of funds that may result in reduced tuition. 
The process of developing a customized cohort for the Leadership and Innovation, EdD program can be completed within three to six months. Other customized EdD cohorts have been launched with the University of Guyana and Mesa Public Schools in Arizona, where a customized cohort has also been developed for the Master's in Educational Leadership (Principalship). 
"There is a real demand and need for organizations to combine research with action," says Josephine Marsh, associate director of MLFTC's doctoral (EdD) programs and associate professor.  "When this is done as a cohort and part of an institutional project it is a powerful approach to work collectively on behalf of systemic change."
Learn more about EdD specialized cohort opportunities: doctoraleducation@asu.edu