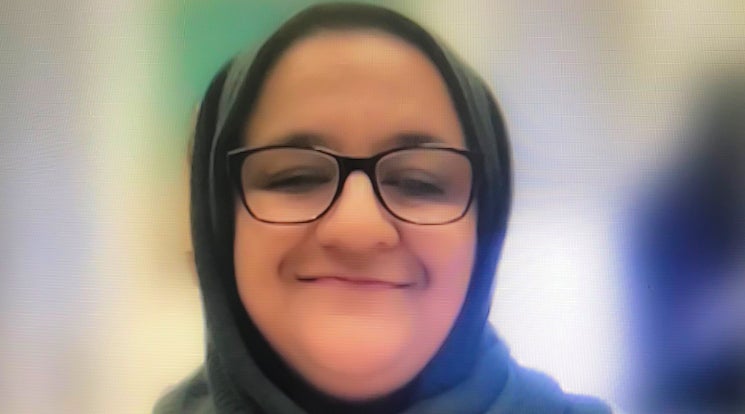 March 17, 2022
Dolores Tropiano
In March, Mary Lou Fulton Teachers College hosted a virtual event highlighting the hardships surrounding education in Afghanistan and one woman's courageous battle to bring this basic necessity to the children of her country.
Rangina Hamidi spoke at the talk titled, "Education in Afghanistan: What Comes Next?"  Afghanistan's former minister of education shared the story of her struggles as the first and only female in 30 years to hold this position, her passion to help illiterate students secure an education and the power of politics to put an end to her efforts.
Hamidi fled Afghanistan in 2022 and came to Arizona State University where she works as a professor of practice at the Thunderbird School of Global Management. The talk was facilitated by Iveta Silova, professor and associate dean of global engagement at MLFTC. 
Hamidi became minister of education in 2020 and says, even after the international community invested $1 billion in teacher-training in Afghanistan, "we were still graduating students who were illiterate. It was the 21st century and their skills and knowledge couldn't compare to the skills needed to survive and live — if not on a global scale, at least on a regional scale."
As she began to develop a vision for the future of education in Afghanistan, Hamidi had some lessons of her own to learn. 
"I quickly realized how political the ministry of education was," she recalled. "I had 17 advisors appointed prior to my arrival and not a single one of them had a background in education."  
Bringing reform to the region
The Afghan-American activist created a reform agenda that included restructuring the 5,000-person ministry and redesigning the curriculum which required students to study 17 subjects during a compact school day. Hamidi hired a more qualified staff and developed a national education policy. It was on her desk waiting for the president's signature the day the Taliban took over. 
Hamidi discussed international aid and the surprising challenges that went along with it. In order to receive funds they were forced "to make progress at a speed not compatible with how life was," she said. 
And then there were the specific curriculum requirements imposed by international education experts over the years.
"They thought we needed a geography lesson about traffic lights," the former education minister said, "and to have students studying traffic when they lived in the middle of nowhere — where they would never see a streetlight in their lifetime."  
Success is stymied
With her time and effort, Hamidi saw a dramatic change in the children. "I realized how much influence the right kind of education can have," she said. "Children not only learned their lessons, but they actually came to love learning."
But her success was short-lived. She was a new face and a new name in politics in an old school structure. 
 "I was a woman and a woman who had not studied in Afghanistan. There was a lot of resistance and animosity towards me. The politics around gender were very hostile." 
In the end, her efforts towards education reform remained unfulfilled. On Aug. 15, 2020, after 14 months in her position, the Taliban took over.
"I went to work just like any other day. But my work was interrupted by commotion and noise outside."
She encouraged her staff to continue to work. But she quickly learned that the government had collapsed, the Taliban had taken over and the international community had turned on her country.
"Of course there was a lot of work left unfinished," she said. "It saddens me. At the end of the day children should not have to suffer at the hands of politicians."
Hamidi fled Afghanistan in 2022 and came to the United States, which she affectionately refers to as her "adopted home." She has family here, including a 12-year-old daughter.
"There was a passionate vision to do things differently from what the ministry had seen in the past 20 years," she said. "I am proud to say I gave it my best. But in the end politics kills even the most ambitious visions of the world. And I was one of those ambitions."