Where education leaders find support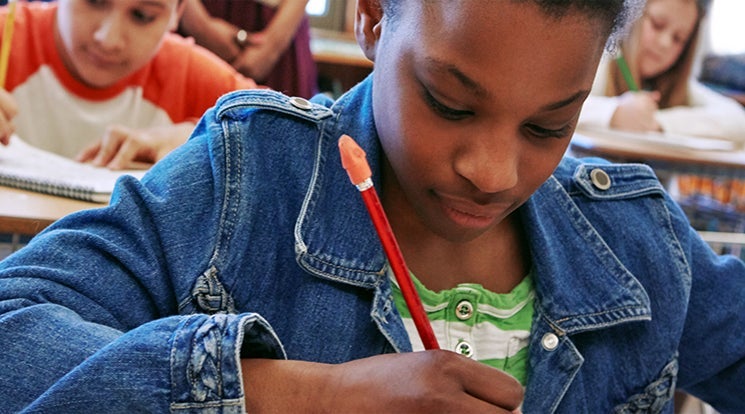 March 13, 2022
Danielle Purkey
"Special education directors deserve to have more of a voice and community in the education system than they typically do," says Lauren Katzman, executive director of the Urban Collaborative. The national network of more than 100 school districts is based at Arizona State University's Mary Lou Fulton Teachers College, where Katzman is associate research professor.
The Urban Collaborative provides resources, professional learning and networking that supports school and district leaders as they work to increase effective and inclusive special education services, Katzman says.
Twice each year for the last 27 years, the Urban Collaborative has held a meeting where educators from all over the United States gather to share challenges, ideas and build supportive relationships. More than 300 educators attended the most recent member meeting, which have been virtual since the beginning of the pandemic. This Spring, the organization plans to move to an online/in-person hybrid model.
The next Urban Collaborative Member Meeting, with the theme "Creating and Strengthening Equitable and Inclusive Transition Services," will be May 11-13 and hosted by Baltimore City Public Schools in Maryland. Learn more about becoming a member. 
"It's important that everyone can speak freely with one another about the things that they normally don't get to, so each conference is a closed meeting," Katzman says. "It's about sharing challenges and building relationships with each other. All but one hour of the meeting is run by members, and it's all interactive."
Districts typically present to one another about what they're working on, what challenges they're facing and collaborate on how to move forward. One segment of the conference is called the "Consultancy Dilemma," where the host district presents two issues they're currently facing and the rest of members act as consultants to them. The issues presented are often familiar to other members from different districts, so the process results in transformative support for everyone participating, Katzman says.
Each meeting also hosts a "Town Hall," usually a chance for members to engage in a group discussion of a given hot topic. Their most recent meeting in December 2021 hosted a live podcast. The podcast, "Black and Dyslexic," hosted by Winifred Winston and LeDerick Horne, is dedicated to advocating for and serving underrepresented adults and parents of children with dyslexia and other language-based learning differences. Their segment included recording a live session titled "Integrating Special Education with General Education with Urban Collaborative" at the conference. 
The meeting also gives members an opportunity to network with the approximately 20 companies who sponsor the meeting. Each company is vetted by Katzman to ensure their goals align with the Urban Collaborative, and partners are encouraged to present on a topic to share how their work is advancing an issue.
Between large member meetings, the Urban Collaborative hosts smaller sessions via Zoom each month, which provides practical support for issues and questions as they come up and gives members more opportunities to connect and get to know one another. 
When the pandemic forced educators to abruptly change their daily practices, so many educators felt alone and lost in how to navigate such a massive change, Katzman says. Members sent in questions to the Urban Collaborative and Katzman and her team would research policy as well as what other districts or states were doing to find out how to help, eventually deciding it would benefit everyone to meet on a much more frequent basis. 
"It's got to be enjoyable; there's got to be depth and laughter," Katzman explains. "It's clear now more than ever before that we need to take care of each other better, and not just intellectually." 
Learn more about Urban Collaborative membership.