ASU academy celebrates 10 years of educating young scholars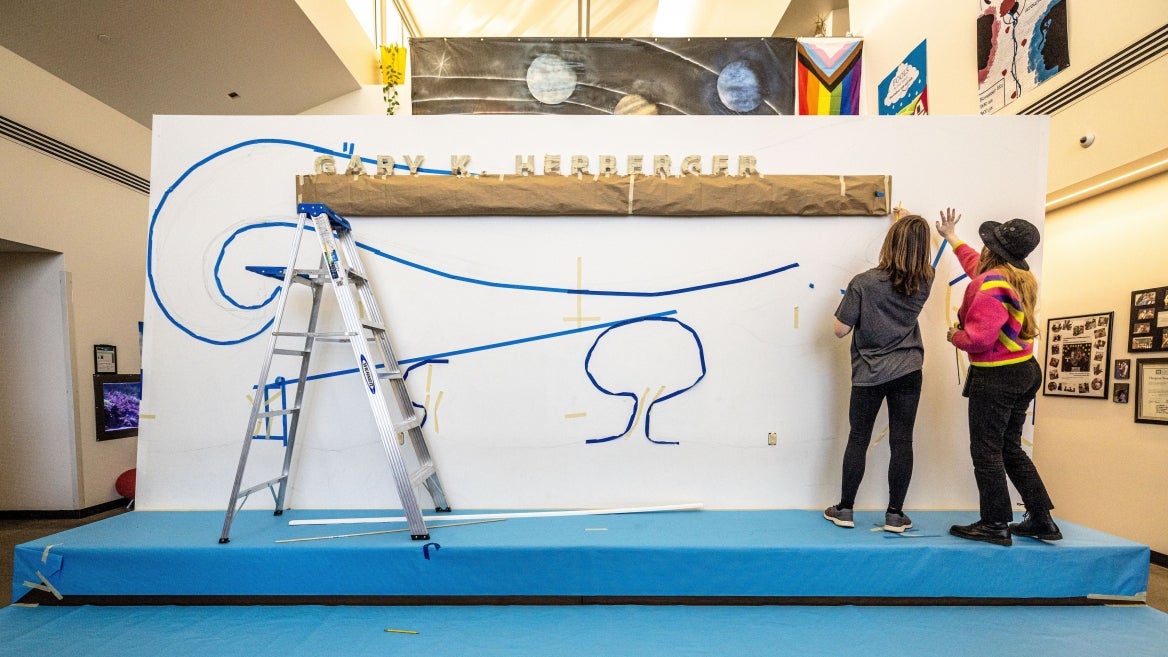 March 18, 2022
Marshall Terrill
When Gary Herberger was a high school junior, his physics teacher sat down and announced to the class that Herberger would be teaching them for the rest of the semester. The teacher told him, "I can learn more from you than I could possibly teach you."
The memory of that incident caused the late philanthropist, businessman, architect and Arizona State University patron to set up the Gary K. Herberger Young Scholars Academy (HYSA) 10 years ago.
"Brilliant young scholars deserve an educational experience that is more interdisciplinary, more challenging and more stimulating than traditional schooling. That is what Gary set out to create, and that is what our academy has become," said Jeanne Herberger, who along with her husband, Gary, founded and launched the academy in 2011.
The school was created as an initiative of the Mary Lou Fulton Teachers College with a $20 million endowment from Gary and Jeanne Herberger to offer a learning environment designed for intellectually gifted students in grades 7 to 12. 
On March 21, the academy will host a reception and dinner for HYSA donors, board members, alumni and families, current students, ASU campus partners and members of Mary Lou Fulton Teachers College. They will gather to celebrate the accomplishments of HYSA's first decade and share the vision for the future.
The event will also serve as a send-off for Kim Lansdowne, who has served as HYSA's executive director since its inception and will retire at the end of the school year.
"I'm so proud of what we as a team have accomplished in the past decade," said Lansdowne, who oversees a staff of 19 people. "The general philosophy, the mission and the vision we started 10 years ago still exists in what we do. This is my life's work, and my heart bursts with pride. My hope is that when I leave, everyone continues to keep kids at the center of HYSA's focus."
Leap of faith
The Herberger Young Scholars Academy is a beautifully designed sustainable educational facility situated on ASU's West campus in Glendale. But it certainly didn't start out that way.
In 2008, it was simply a concept. And one that the Herbergers' accountants didn't think feasible at the time.
"It was when the economy was in decline and startups were risky," Jeanne Herberger said. "But Gary was fearless when it came to innovation. He believed a first-of-its kind learning environment with university roots would propel gifted scholars towards new heights of achievement."
The Herbergers drew up their concept of the academy and presented it to Lansdowne.
It left much to the imagination, but also gave her freedom for experimentation.
"The endowment agreement with ASU simply stated, 'Create a middle school gifted program on an ASU campus,'" she said. "That was it. It was terrifying and exhilarating! Could I start a middle school program? Everyone that started this school with me had a very secure job, and they came along as a leap of faith. As a team, we were trying something new that hadn't been done before."
Just as simple as the one-sentence description was the original HYSA "campus." It was a 3,500-square-foot modular building that housed approximately 30 middle school students.
"We were limited by space and had classes happening in conference rooms and even the kitchen," said Elizabeth Mendoza, HYSA's assistant director of curriculum and instruction. "We later used ASU rooms here at the West campus. Any spot where there was availability."
But the teaching and student interaction that took place in those limited spaces was meaningful and engaging. The academy personalized students' experience by merging individuals' academic talents with challenging coursework and mentorship opportunities, offering a broad-minded, paradigm-shifting education.
It was a big hit with students and their parents.
"When we first started, we were technologically-based, but very experimental and innovative," said Mike Twilling, one of HYSA's first teachers and current principal. "We had one-to-one computers in our classrooms when it wasn't a common thing. Rather than having discrete subjects, we integrated the curriculum across all disciplines and had teams of teachers rather than the one-class, one-teacher model. We taught all disciplines in a four-hour block. In addition to academics as a focus, we worked on social and emotional skills. We had students tell us this was their first experience having peers that they connected with, and they made friends for the first time in school.
"When the students are happy, their parents are happy."
Word was catching on, and enrollment was growing exponentially. There was need for a more permanent structure.
Touch and go
Despite the first-year success of HYSA, no one was thinking anything beyond a year at a time, Twilling said.
"I don't know that anybody fully expected this to work on a college campus," Twilling said. "The logistical relationship that has to happen between a seventh- to 12th-grade school on a university setting is complicated. So our first year was touch and go."
But students and families were telling the administration they wanted to continue their education there. So HYSA decided to expand from middle to high school in 2012.
They adopted the Cambridge Assessment International Education curriculum and developed bridges to ASU and college preparation for its students. HYSA students were given access to the West campus' library, Sun Devil Fitness Center and the food court. They could also take classes from ASU professors, contribute to research studies, run experiments in a university research lab and work side-by-side with faculty on special projects, earning as many as 45 college credits to continue their studies in degree programs on any ASU campus.
The proximity to an ASU campus was a draw for 2015 HSYA graduate J.D. House.
"The fact that I could take ASU West classes was immensely helpful because very little changed from my senior year of high school to my freshman year at college," said House, who obtained his bachelor's and master's degrees in math at ASU. Today he is a health care financial consultant for the Arizona Health Care Cost Containment System. "I was not intimidated because I knew what a college setting was like. Independent study was not foreign to me because it's how we learned at the academy. Herberger really set me up for success." 
The experience is also rewarding to teachers said D.J. Graham, who has been a teacher at the academy for three years.
"Teaching gifted kids is an incredibly rewarding experience, but you never know what you're going to get on a daily basis," said Graham, who will be taking over for Twilling as principal at the end of the semester. "I can teach the same lesson to two different groups of students and have two different conversations. Each pathway we go on is unique, and there's a level of intensity with that sort of engagement. You can't blow off any lesson plans or not do your prep work, because they're going to come running."
And come running they did. By 2017, the student population had more than doubled since its inception. That same year, they moved from the small modular building to a 19,500-square-foot state-of-the-art space that Lansdowne "did not want to look like a school."
The learning setting featured lots of natural light and cutting-edge classrooms, a makerspace for collaborative projects, a black-box theater for drama, a fish tank that students are responsible for and outdoor spaces with raised-bed gardens.
Eamon O'Brien, HYSA's director of integration and technology, is in charge of the makerspace. The room is filled with 3D printers, milling machines, hand tools, laser cutters and computers.
"This is basically the 21st century version of an old wood shop that you had in high school back in the day," O'Brien said. "We try to be everything to everybody, where sandbox failure is always an option. Failure in this room is simply a steppingstone. Students learn what doesn't work and they move forward. We want to get learning out of the theory and into the physical and manipulatable."
O'Brien said many innovations have come out of that room, including software products and 3D designs.
"Last year , we had a student who was designing fully functional turbine engines," O'Brien said. "Right now, we have students who are working to build artificial intelligence bots to trade crypto currencies, because that's what students are interested in at the moment."
Gary Herberger, who died on Feb. 28, 2017, enjoyed his visits at the school and interacting with students, said Kathy Leech, HYSA's founding executive coordinator. She said Gary often attended "musical interludes" that were held around the academy's baby grand piano in the lobby — the piano that he and Jeanne donated to the school. The students would dance, sing, recite a poem or play an instrument.
In 2012, the Herbergers were selected "ASU Philanthropists of the Year" by the President's Club of the ASU Foundation. They not only felt it was a moment to share with others but a teachable one for HYSA students.
"It was a big dinner at the Biltmore Hotel, and the Herbergers bought tables for the students and faculty so all could attend," Leech recalled with a smile on her face. "We brought in ASU people to teach our students proper etiquette and worked with our kids on table manners. The Herbergers were thrilled that the students were there and the students were thrilled to be involved with something like that."
But the emotional high point for Jeanne Herberger was the October 2015 Design Charette, where the academy and ASU Herberger Institute for Design and the Arts faculty and graduate students teamed up for a two-day "think tank."
"Our young scholars, ages 11 to 16, exchanged ideas with experts in the field, and their design concepts were incorporated into the academy building that opened in November 2017," Jeanne Herberger said. "The Charette was an experience they will always treasure — and I will always treasure."
Leech said the Herbergers have been involved with the academy since day one and were in on everything from design of the new building to meeting children and their parents of the academy.
"This place was Gary's passion and really kept him involved," Leech said. "Jeanne used to say that Gary would always come away with a big smile after one of his visits."
The next decade
Today, the Gary K. Herberger Young Scholars Academy is a national model of providing gifted scholars with an exceptional education. The scholars excel in high level competitions ranging from mathematics to poetry to robotics. They participate in graduate level symposiums and learn in an environment where they are encouraged to play, create, inspire and innovate.
High school freshman Lola Tahan has attended HYSA since the seventh grade and likes the academy for several reasons.
"I love the flexibility and the freedom, and the school asks for our input on a lot of things," said Tahan, who plans to pursue an engineering career in college. "I really enjoy my history class. My teacher offers a bunch of interactive assignments. For example, when we were learning about the League of Nations, each one of the students was a nation and we reenacted our parts to fully understand how they function."
Many in the education space are curious about how HYSA functions, said Lansdowne.
"We are seeing things take root in some of the local schools, and that's just another way to think about how we serve gifted students," Lansdowne said. "It's not uncommon to go to a conference and get an email from somebody asking, 'Can I bounce something off of you?' or get a phone call from a district administrator who is considering opening a school for gifted students. It's important that we're not just stewards of our school but help build connections to the gifted community."
Next year, HYSA expects to reach another milestone: reaching full capacity. Gabriel Klemm, director of admissions and advising, said 120 is the school's maximum and does not foresee growing beyond that.
He said finding students is not a problem. But HYSA is looking for students who fits the academy's mission.
"What we are looking for are gifted students whose needs are not being met in their current learning environment," Klemm said. "We choose students on the basis of students' needs and how we can best impact on their lives. I think that is our measure of success."
Gary Herberger's plan to educate gifted students has exceeded everyone's expectations, including his widow's, who continues watching over her husband's proudest legacy.
"Gary believed that philanthropy is about investing in a better future by supporting ventures that will deliver substantial returns," Jeanne Herberger said. "For him, the scholars of this academy and the contributions they will make to our global society are the best returns imaginable."
Top photo: 11th graders Tessa Sharp of Cave Creek, Arizona, and Owen Masinelli of Scottsdale, Arizona, work on a wall mural at a Friday Morning Enrichment Elective at the Gary K. Herberger Young Scholars Academy on ASU's West campus on Feb. 25. The conceptual piece shows that knowledge and creativity are nurtured through hearts and brains. Photo by Charlie Leight/ASU News