Turnaround for Children is now the Center for Whole-Child Education at MLFTC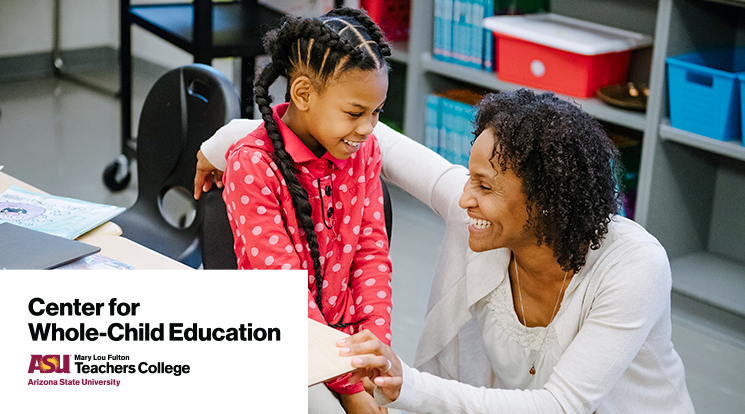 Turnaround for Children is now the Center for Whole-Child Education, a part of Arizona State University's Mary Lou Fulton Teachers College. 
The Center for Whole-Child Education at MLFTC will play a leadership role in transforming educator practice, leadership practice, systemic performance and knowledge generation in support of whole-child learning. The new entity will play a major role in strengthening a core strategic focus area of MLFTC: advancing learner-centered education. 
MLFTC is committed to developing educational practices and building learning environments that are responsive to the personal, social and cultural experiences of learners. 
For 20 years, Turnaround for Children has been a leading catalyst in precisely this kind of work. Turnaround is a leader —  among both practitioners and policymakers —  in translating the science of learning and development into insights for school design and educator practice. 
Turnaround has played a key role in building understanding of: 
the impact of trauma on students' readiness to learn; 

neuroplasticity and the impact that context can have on learning and development; and  

the range of factors — building blocks of learning —  that must be attended to in support of comprehensive student development and how to design learning environments.  
The Center for Whole-Child Education will strengthen MLFTC's impact at all stages of educator preparation, leadership development and professional learning. 
The Center for Whole-Child Education will develop a set of usable tools and support capacity building for practitioners, leaders and policymakers. Its contributions and expertise will strengthen MLFTC's degree programs (academic enterprise), lifelong professional learning offerings (learning enterprise) and research capabilities (knowledge enterprise). 
The Center for Whole-Child Education will join an innovation ecosystem at MLFTC that includes the Center on Reinventing Public Education, the Next Education Workforce initiative and the Urban Collaborative. The combined insight and commitment of these entities is a powerful force for designing scalable solutions that can make education practice and education systems more effective, equitable and sustainable. 
The center's addition to our community of learning, thought and action will enhance our college's ability to bring people and ideas together to increase the capabilities of individual educators and the performance of education systems. 
Turnaround's founder, Dr. Pamela Cantor, and the Center for Whole-Child Education's Executive Director, Brigid Ahern, were key in making this partnership happen. Read Ahern's announcement of the news, to learn more about the Center for Whole-Child Education.
Contact Jeremy Koren.