South Korean partnership aims to innovate its teacher training system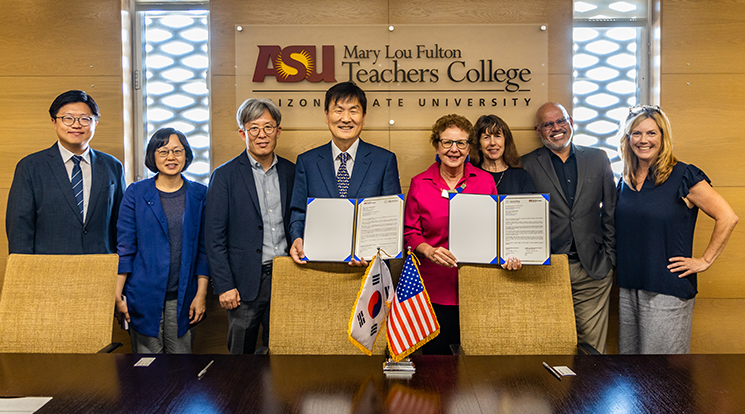 June 19, 2023
Meghan Ensell
Seoul National University of Education, located in the Seocho-gu district of Seoul, is the top-ranked university of education in South Korea and the most recent university with whom Arizona State University's Mary Lou Fulton Teachers College has forged a partnership.
In May, Seoul National University of Education, or SNUE, visited MLFTC to officiate the partnership that aims to meet the high expectations for the declining school-age population and the reorganization of the university's teacher training system. 
Ann Nielsen, director of MLFTC Office of Global Engagement says, "We are excited to establish a partnership with SNUE as we continue to refine and improve teacher education globally. This partnership will promote new opportunities for MLFTC students to engage globally in teacher education, in addition to the unlimited potential of faculty partnerships."
SNUE became interested in a partnership with MLFTC because of the college's reputation for pre-service teacher training programs. In 2022, MLFTC ranked No. 8, by U.S. News & World Report, for digital-based teacher training programs. 
Shin Seungki, Dean of International Affairs at SNUE says, "Through this partnership, we will promote innovation in the digital-based elementary school teacher training curriculum promoted by MLFTC."
SNUE plans to jointly develop an innovative model for teacher training colleges with MLFTC and apply it to its pre-service teacher training course this year. "We plan to jointly carry out research on MLFTC's innovative models and carry out global efforts to nurture excellent teachers," Shin says. 
"We look forward to jointly cooperating with MLFTC to share expertise in the teacher training process and to seek future innovative educational directions," says Shin.