Project OASIS exploring personalized learning and special education models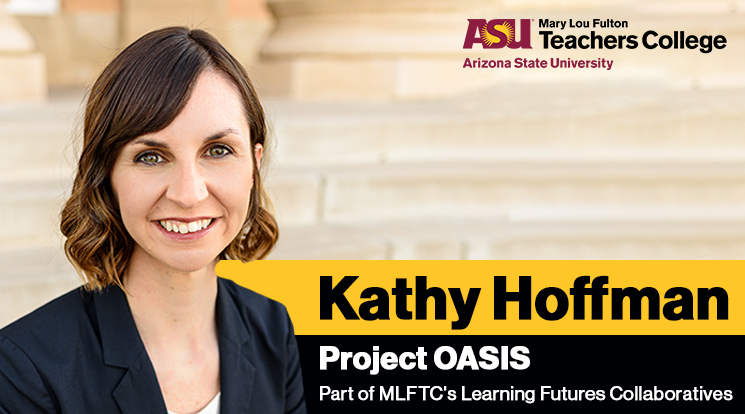 Special education models are designed to personalize learning experiences for students who acquire and retain knowledge and skills at different paces. As special education services expand, some educators see an opportunity to explore and integrate these approaches to better serve all students. 
A team of K–12 educators, Arizona State University faculty and community members is convening to better understand and map out systemic approaches through Project OASIS (Optimizing Access for Students in School). The project is the newest addition to the Learning Futures Collaboratives, an initiative of ASU's Mary Lou Fulton Teachers College .
Kathy Hoffman, executive director for innovation and special education initiatives at MLFTC, explains how Project OASIS will explore ways to help school systems address educator recruitment and retention, improve student achievement and accelerate college and career readiness for students of all backgrounds. Hoffman led the Arizona Department of Education as superintendent of public instruction from 2019–23.
Q. What is the purpose of Project OASIS?
Approximately 15% of K–12 students in Arizona schools are served by special education teams that guide the development of individual learning plans to ensure these students receive equitable access to education. Through Project OASIS, we see an opportunity to create a space for education and community experts to come together to address the systemic challenges of special education and break down silos to ensure every child achieves their full potential. 
The question we strive to address is: How can we create a future educational model where special education and labeling disabilities are not necessary for all students to have this optimal experience?
Through Project OASIS we will explore ways to better leverage the personalized learning approaches being used for these students while identifying ways to ensure school systems are appropriately staffed. We will research models that are showing the most potential and benefits for students with disabilities and determine what data should be evaluated to measure success. We want to also help school leaders and educators consider the advantages and challenges of inclusion models and how to meaningfully integrate students with disabilities in the general education setting. 
Q. What are some of the immediate goals for Project OASIS?
Our initial goal is to create an interdisciplinary network of organizations and individuals and we are starting out with a focus in the state of Arizona. Through collaborations with organizations such as the Center for the Future of Arizona and the ASU Decision Theater, Project OASIS will be studying statewide special education data, identify high-performing school models and determining how we are defining success for students with disabilities. We plan to set high expectations and work with community partners to strengthen pathways towards career readiness for all students.
Through this network, it is important for us to reflect the range of perspectives across rural and urban communities, and to have representation of subject matter experts with knowledge of serving students of all abilities, including those diagnosed with behavioral and physical challenges (ranging from autism spectrum disorder and speech-language impairments to sensory impairments and learning disabilities). At MLFTC, we also have the benefit of being connected to faculty researchers involved in areas of special education, as well as to The Urban Collaborative, which is led by Lauren Katzman and has a strong history of collaboration with school districts — more than 100 in 28 states — committed to leading inclusive and equitable education. 
As the project progresses, we will be looking for opportunities to redesign special education initiatives that have the potential to be scaled.  We are also interested in launching research projects that test, analyze and provide insight into possible solutions.
Q. From the special education perspective, what are some of the main challenges that schools and districts face? 
There are huge demands being made of special education teams on a daily basis, especially with the persistent staffing shortages, as outlined in the Arizona Special Education Programs and Cost Analysis. Too often, special educators experience high workloads and don't have the time to be creative or innovative. Because of complex policies, funding mechanisms and fear of lawsuits, many school systems manage special education more as a matter of bureaucratic compliance than educational mission. . 
Special education teams often face a lack of awareness or understanding from colleagues and education leadership as to their roles and contributions. That understanding, backed by data and research, is key to making decisions around staffing and funding for special education as it relates to the wider workforce. 
Q. Through Project OASIS, what are some of the key issues you plan on exploring?
One key area we will be looking at is how to better support schools in their staffing needs and models as they relate to special education models and team teaching. Addressing staffing needs means looking at ways to increase pathways for educators and support personnel to be trained and certified. MLFTC has developed collaborations with school districts, such as Paradise Valley Unified School District, to provide quality education and supports. 
Another way to address staffing needs is to work with districts to support their redesign of educator workforce models. MLFTC's Next Education Workforce models have been expanding nationally as schools and districts explore new ways of incorporating team teaching and subject matter experts in place of the one-teacher-one classroom model to create personalized learning experiences for students.
These combined developments open up opportunities as we look at ways to align special education models, with their focus on personalized learning, to benefit entire school systems. 
This story is part of an ongoing series that highlights the relevance of special education as part of a wider effort to address systemic improvements in education while increasing access, personalized learning and opportunity for all students.