MLFTC welcomes the first cohorts in ASU Teaching Fellows program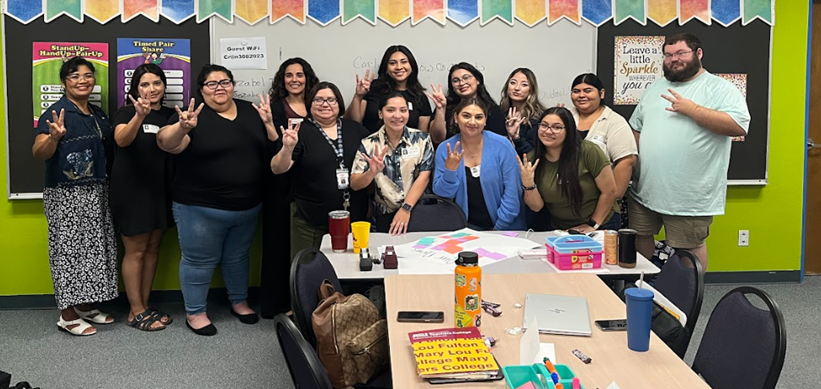 September 13, 2023
Meghan Ensell
Mary Lou Fulton Teachers College launched its ASU Teaching Fellows program in August by welcoming 89 fellows. The program is an accessible and supportive pathway for paraeducators to earn an elementary education or special education certification and bachelor's degree, while continuing to work in the classroom. 
The fellows are organized into cohorts and led by program instructors in a hybrid format, consisting of scheduled evening classes via Zoom, online courses that are self-paced and in-person meetings at ASU. Student teaching is embedded into the program. 
The ASU Teaching Fellows program was developed in an effort to partner with school districts and schools to support education workforce needs, such as attracting quality teachers, creating internal career pathways and strengthening retention. MLFTC works directly with interested schools and districts in the Phoenix area, but plans to expand to other schools and regions in the future.
"Many of our fellows have backgrounds in nursing, marketing, behavioral health and trauma recovery, and we have several that have over 20 years working in the field of education but never had the opportunity to get their degree and certification until now," says Carlyn Ludlow, associate division director of undergraduate programs and clinical associate professor.
This year's fellows — 77 in Tempe and 12 in Yuma — are divided into five cohorts and come from 44 different local education agencies. Sixty-six of the fellows are new to ASU. 
Through the program, fellows have the opportunity to immediately apply what they learn in the classroom. For example, a fellow learning about methods to teach science may be asked to create a science lesson. After receiving feedback from their instructor, the fellow can implement their lesson in the classroom — and all of this can happen within days. This highly-integrated approach deepens learning and reduces the time of degree completion, meaning most students will complete the program in 16 months. 

Learn more about ASU Teaching Fellows and other ways MLFTC is helping educator paraprofessionals earn a degree.