MLFTC collaboration at the Aurora Institute Symposium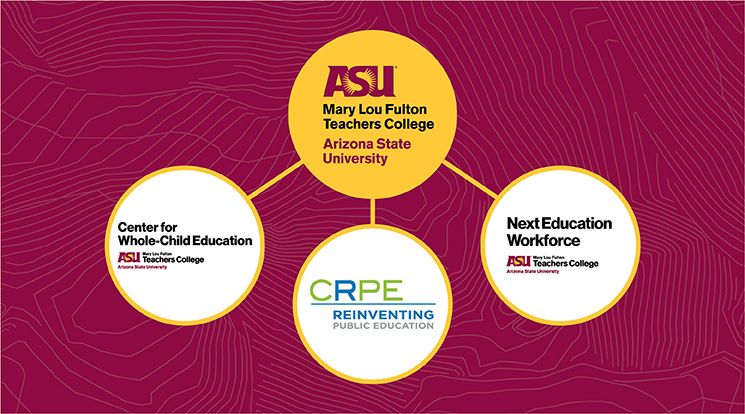 Last month in Palm Springs, California, leaders from the Center for Whole-Child Education (formerly known as Turnaround for Children), the Center on Reinventing Public Education (CRPE), and the Next Education Workforce initiative — all components of Arizona State University's Mary Lou Fulton Teachers College (MLFTC) — joined forces for the first time at a major conference, presenting at the Aurora Institute Symposium 2023.
During the standing-room-only panel, "Whole-Child Learning Requires Whole-System Solutions: Integrating the Science of Learning, Instructional Practice, and School Design for Educational Equity," representatives of the three organizations collectively conveyed that achieving equitable learning outcomes requires systemic innovation across three levels: the science of learning, instructional practice and organizational design. They also argued — and embodied the argument — that solutions to these complex issues demand an unprecedented level and spirit of collaboration.
To inspire that kind of collaboration, Jazmin Hernandez Lavezzo, Director of Partner Impact at the Center for Whole-Child Education, set the stage by inviting all presenters to include authentic, personal background details in their introductions in an effort to deepen and build connections with others — a gesture that reverberated throughout the room, with attendees turning toward each other in the audience to join in. The panel featured Lisa Maresso Wyatt, Senior Director, Whole-School Models and Scaled Support, Next Education Workforce initiative at MLFTC; Bree Dusseault, Principal and Managing Director at CRPE; and Gretchen Livesey, also a Director of Partner Impact from the Center for Whole-Child Education.

The science behind student belonging
A central theme permeated the discussion: creating a sense of belonging in schools. Each panelist contributed a unique perspective. Livesey delved into the science of learning and development, exploring how social exclusion or a lack of connectedness to school activates the same centers in the brain as physical pain, in many ways signaling a similar threat to survival and well-being.
Dusseault brought to light the current state of American students, highlighting their voices and experiences from the new CRPE report, The State of the American Student: Fall 2023, which highlights, for example, that students want adults and people of power to finally listen to what they have been saying for many years: They want change. The report shares that students want adults to focus squarely on their well-being, "not on the myriad distractions that seem to consume school boards and state and federal policy debates." 
Maresso Wyatt from the Next Education Workforce Initiative shared a compelling narrative about her own experience as an education professional, emphasizing how educators can maintain a sense of self, a sense of belonging and individual expertise as they work in team-based staffing models. 
This year, the Aurora Institute Symposium overarchingly revolved around competency-based education (CBE), fruitful terrain for whole-child development, and the message from the panel resonated profoundly: Even as we work to revolutionize and expand the realm of personalized learning, science shows that students must never lose the communal and community-building experiences vital for their development.
The symposium's audience posed thought-provoking questions, including:
If you were designing a school from scratch with a central focus on belonging, what would you do?

Are schools taking the right steps to create the kind of belonging that leads to better learning conditions and, presumably, better learning outcomes? How do we know what those are? 
The panel's challenge was to unite to meet the urgent needs of students today while building adaptive learning environments capable of addressing complex challenges in the future. That's a shift that must apply at all levels, from policymakers shaping education to schools tailoring their approaches to individual students.
An inspiring beginning
This symposium was an inspiring beginning for the collaborative work to come. The combined insight and expertise of the Center for Whole-Child Education, the Center on Reinventing Public Education and the Next Education Workforce initiative can be a powerful force for designing scalable solutions that can make education practice and education systems more effective, equitable and sustainable.