Micki Chi receives distinguished recognition from the APA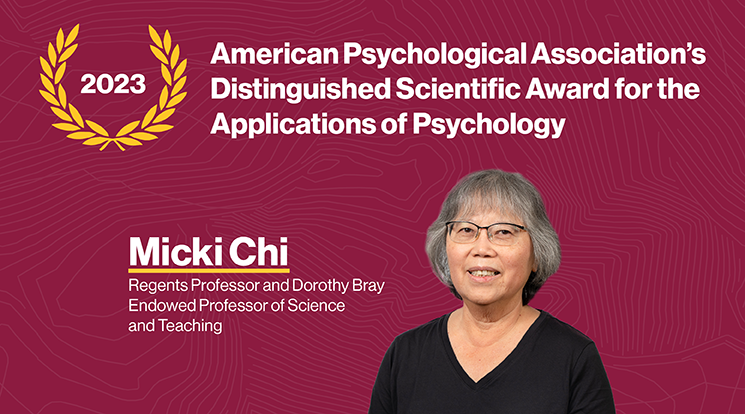 The pandemic prompted many schools and organizations to expand learning experiences beyond in-person environments to online and hybrid modalities. In response, researchers and instructors are seeking applicable methodologies that can encourage deeper, more interactive learning experiences across a wider range of learning platforms.
One source of consistent reference is the Interactive, Constructive, Active and Passive, or ICAP framework, which was developed by Micki Chi, Regents Professor and Dorothy Bray Endowed Professor of Science and Teaching at Arizona State University's Mary Lou Fulton Teachers College. Chi was recently designated the 2023 American Psychological Association's Distinguished Scientific Award for the Applications of Psychology.  
Chi will be formally recognized for her wide range of work, which includes the ICAP framework, at a ceremony later this year. Created before the pandemic, ICAP was developed to help educators and personnel of learning-focused organizations identify opportunities for active and authentic learning. Its application has ongoing relevance in light of the evolving world of technology and education. 
"Educators and researchers continue to seek ways to deepen student understanding through authentic learning approaches that encourage students to more actively engage with information across a range of learning environments," says Chi. "The ICAP framework provides a lens through which we can further explore how teaching methodologies can support accessible and effective learning environments through these expanding range of platforms and technologies."
Chi, who was trained as a cognitive psychologist, has been widely recognized for her research into the challenges of student learning, such as why students lack deep understanding. She was inducted into the National Academy of Education and the American Academy of Arts and Sciences. She regularly presents on student engagement and learning, including the ICAP model's application, to faculty around the world. Watch a recent video presentation.
ICAP identifies four modes of learning, which can be applied to a variety of education or learning situations: passive, active, constructive and interactive. Passive and active modes of  learning may be sufficient for certain kinds of learning objectives that prioritize memorization and general understanding. Constructive and interactive modes are more likely to lead to student engagement and deeper learning.
In constructive learning, learners generate behaviors that go beyond active, rote activities. This might include recapping a lesson or lecture in one's own words or through a concept map. Interactive learning might include debating with another student, or jointly drawing a concept map.
Originally used to address questions in physical classrooms, the categories can also be applied to the online space, particularly in relation to synchronous learning online in which students learn remotely but at the same time through live lectures and a simulated classroom experience. Below are a few of Chi's recommendations to encourage deeper learning.
Be aware of how instructions can shape the learning experience.
The instructions that educators and instructors use to outline assignments can either encourage or discourage more active learning. Adapting language and assignments, for both in person and online learning, can result in deeper learning. 
Avoid assignment language that incorporates passive actions

. Some assignments encourage students to recap what they learn, rather than build on what they are learning. Assignments that incorporate instructions such as "click," "describe" and "match" may serve certain learning objectives, though may be limited in achieving deeper learning acquisition. 

Use constructive and interactive verbs more frequently

. Develop assignments that encourage students to explain and explore the "why" behind their responses, which has been shown to deepen learning. Constructive verbs may include: "suggest," "draw," and "justify." Interactive verbs and instructions, such as "debate" and "expand on," can encourage more analytical thinking and deeper learning through collaborative exercises.
Incorporate discussion breaks into lectures. 
When lecturing make sure to incorporate short learning "breaks" for students to reflect, discuss or write their reactions to concepts. One constructive approach is to highlight a lecture concept that deliberately includes an error, and then ask students on their own to identify the error. An active and interactive approach could include posing a question, have students respond using a clicker, and then deepen the learning by having the class break into small group discussions to discuss or debate their responses. 
These approaches also can be adapted to online learning environments through breakout rooms or mini assignments submitted at the end of the class.
Encourage collaborative learning opportunities. 
Deeper learning can be enhanced through collaborative experiences that reinforce learning through co-constructive interactions, such as solving a problem together or comparing viewpoints. This appears to be the case regardless of whether one person brings greater informational insight than the other, or if the collaborators are knowledge peers. "Even when you have the same knowledge basis, each individual brings a different set of experiences and backgrounds and so each can make inferences and generate something that the other person didn't think of on their own," says Chi. "This ability to make inferences and connections through interactions is uniquely human and it is what makes such collaborative learning exercises so powerful."