Join us in February to help build the Next Education Workforce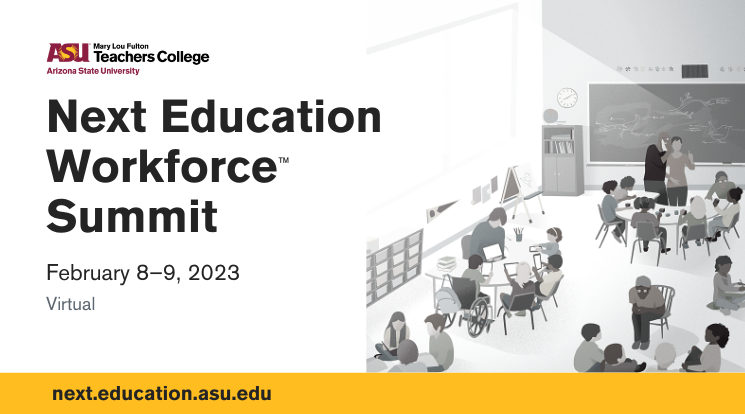 December 14, 2022
Kelly Jasper
Dr. Lindy Elkins-Tanton has two goals in life: space exploration and improving education. 
"I'm here to tell you," the principal investigator of the NASA Psyche mission and vice president of the ASU Interplanetary Initiative says, "I think changing education is harder."
Elkins-Tanton joins Carole Basile, dean of Arizona State University's Mary Lou Fulton Teachers College, for a keynote conversation at the Next Education Workforce Summit '23.
The Next Education Workforce™ is a nationwide movement and an initiative of the college that helps schools and systems transition away from the unsustainable one-teacher, one-classroom model of staffing schools. Instead, schools build teams of educators with distributed expertise — a model that improves teacher satisfaction and aims to provide every student with deeper and personalized learning.
The summit is an annual event focused on team-based school staffing models. Now in its fifth year, the one-and-a-half-day virtual event on Feb. 8–9, 2023, brings together experts and speakers from a variety of industries including pre-K–12, research, policy, government, advocacy, nonprofit, edtech and business. Learn more or register. 
Professionals in countless other industries, including space exploration, work on teams, says Brent Maddin, executive director of the Next Education Workforce. "Teams allow the individuals to contribute complementary strengths, knowledge, skills and superpowers to the effort that's before them. Yet in education, teachers are often working alone without the support of a team."
Maddin explored the topics of teams, distributed expertise and democratized learning with Elkins-Tanton in a new episode of the Next Education Workforce podcast.
"What would happen if we peered into other professions and asked the question, how are they organizing themselves? What can we learn from them?" Maddin asks.
The NASA Psyche Mission couldn't fulfill its mission — to land a spacecraft on a metal-rich asteroid orbiting the Sun between Mars and Jupiter — without its team of 500, Elkins-Tanton says. "The common thought is that it is scientists and engineers and, for sure, we have scientists and engineers. But we also have financial people and schedulers and marketers. And we have got project managers and social media experts. We have writers and artists."
For space missions — or really, for any big project that humans have ever attempted — many disciplines are needed for success, Elkins-Tanton says.
"For school to prepare students for life, school has to have interdisciplinary teams with shared goals because that's what it is to be human," Elkins-Tanton says. "It's a huge force for equity when everyone on the team has their own expertise that's different from other people's expertise but needed for the goal. It doesn't matter if you're younger or your skin color is different or you come from a different neighborhood, or your gender. Your expertise is needed and you're valued."
In addition to Elkins-Tanton, the Summit highlights the distributed expertise of dozens of other individuals. The agenda includes sessions on topics such as:
High school programs that leverage young adults as reading tutors  

Sustainable teacher residency and apprenticeship models

Strategies for leveraging community educators

How to leverage existing funding for team-based models  

U

sing Technology to Expand Teaching Teams
The event also includes presentations from schools implementing team-based models, along with virtual networking opportunities for participants. Last year's Summit drew educators and education supporters from three continents, 38 states and the District of Columbia, 85 school systems, 60 institutions of higher education and 50 school support organizations, as well as dozens of government officials, philanthropists and journalists.
Register for the Next Education Workforce Summit '23 by Dec. 23 for the early bird price of $150. General admission starting Dec. 24 is $200 per person.
Learn more
Visit the Next Education Workforce™ website to learn more about this work.
Explore free resources for schools and systems.
Buy The Next Education Workforce book, available now.