The future of education unfolds in Arizona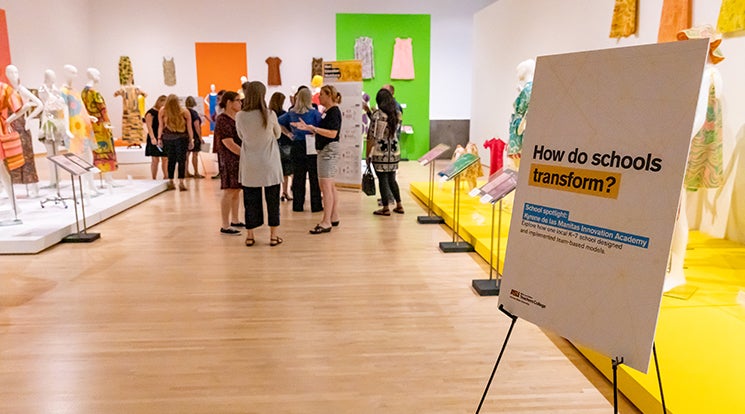 October 05, 2022
Kelly Jasper
"What does the future of education look like?" 
Dean Carole Basile of Arizona State University's Mary Lou Fulton Teachers College posed the question to a crowd gathered at the Phoenix Art Museum at a February 2018 event called "Education by Design: Innovation With Purpose in Schools and Systems." She challenged the audience — community members, education and business leaders, teachers, faculty, alumni and donors — to think creatively about the future of the education workforce and the long-term solutions needed to improve learning outcomes for students and professional experiences for educators. 
Five years later, many of those same individuals returned to the museum to see how the future of education is unfolding in Arizona schools and beyond. More than 8,000 students in 43 schools across 10 school systems in Arizona and California now learn in Next Education Workforce™ models, developed by the college's Next Education Workforce initiative in partnership with schools and school systems. 
The event showcased almost a dozen schools at different stages of implementing team-based staffing models. In one exhibit hall, school leaders talked with participants about key elements of Next Education Workforce models. In another hall, educators shared how they adapt and apply those elements to create customized, adaptable models that meet the needs of learners and educators in that specific school. Other stations allowed participants to reflect on the purpose of education, the role of the community and how schools implement new models without increasing costs.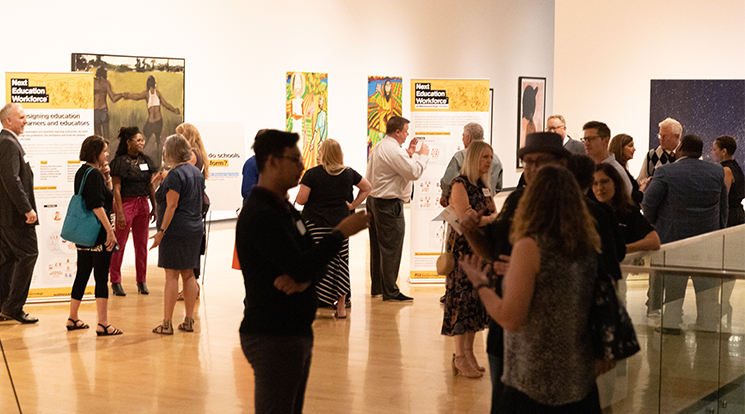 "The most important thing we hope to communicate this evening is the importance of asking the right questions when it comes to education," Basile said. "When it comes to thinking about the education workforce, the right questions go beyond short-term fixes."
Since she became dean in 2016, Basile says, the majority of media calls and questions she has received have been concerned with the state's teacher shortage. 
"It's true," Basile said, "We don't have enough teachers in our Arizona schools but we really need to ask why we don't have them and how we can create environments that would actually put more new teachers in our schools. We also need to ask how to keep the teachers we have."
MLFTC's answer to that question is a fundamental redesign of the education workforce. The Next Education Workforce initiative partners with schools and school systems to  1) provide all students with deeper and personalized learning by building teams of educators with distributed expertise and 2) empower educators by developing better ways to enter the profession, specialize and advance.
The college first launched a team-based Next Education Workforce model in fall 2019 with one team, three teachers and 85 students at one school. Since then, the models have grown 100-fold. 
[View profiles of Next Education Workforce schools]
Dozens of additional school systems are also exploring team-based staffing models in a first-of-its-kind Learning Cohort, hosted by MLFTC and AASA (The School Superintendents' Association). It's one of several types of professional learning the college offers to support schools and educator teams transitioning to new models, locally and now nationally.
These efforts are being noticed, said Sybil Francis, president and CEO of Center for the Future of Arizona, who spoke at the event. "Arizona is a hub of innovation in this field, and people are coming here to see the work that's going on."
The college regularly hosts site visits to local Next Education Workforce partner schools that allow visitors — including educators, systems leaders, policymakers, donors and others from across Arizona, the U.S. and internationally — to observe learning environments and talk with educators and leaders in schools. 
[See upcoming site visit dates and locations]
"The Next Education Workforce is truly innovative," Francis said. "That means the classrooms are going to look very different, and gone are the days of the lone teacher shouldering the demands on them. We're looking at a model where students can thrive and, importantly, make the teaching profession more desirable."
It's not only "the right thing to do for our state and for our future, but it's really the right thing to do for all of our students if we want to improve and have equitable outcomes for all," Francis said. "Our education system is possibly the last place on earth that has not had to modernize."
Vatricia Harris, assistant principal at Westwood High School in Mesa, Arizona, helped design and implement one of the first Next Education Workforce models. 
After feeling the strain and isolation of teaching in a traditional model, "I needed something different." The school's first teams — an English teacher, math teacher and science teacher — each shared a roster of 90 students. "We were given a four-hour block so that we could do project-based learning," Harris said. "We were able to learn about the interests of our students and put that into our curriculum and units. We were given two hours of prep time to make that happen — and then the magic begins to happen in my classroom.    
"I began to get excited again about wanting to come to work because now I was doing the things that I had dreamt that I could do as an educator," Harris said. "I also began to see with our students the success that they were having." 
Academics improved. Problematic behaviors decreased. Students began to advocate for themselves and their learning. The pilot was so successful that Westwood expanded its team-based model to include approximately 1,000 freshman students. Each academy is staffed by a core team of at least four educators: a lead teacher and three certified teachers. Depending on student needs, the team may also include special educators, English Language Learner educators, MLFTC residents and paraeducators.
"Now I am assistant principal and I get to lead the charge of this great work because I believe in it that much," Harris said. "Teachers again are excited and that is boiling over to our students being excited."
Next Education Workforce models are based on the understanding that schools are both learning environments and work environments, said Brent Maddin, executive director of the Next Education Workforce. 
"The pandemic made longstanding problems in education and our education system morally and practically impossible to ignore. We must finally move beyond the one-teacher, one-classroom model that is still the most common default," Maddin said. "Right now, we have a once-in-a-generation opportunity to act on what we have long known and build the Next Education Workforce — one that ultimately works better for both students and educators."
Learn more
Learn more about the Next Education Workforce™
View resources for schools and systems
Explore events, including information sessions, professional learning opportunities and visits to schools.