Deputy Education Secretary Cindy Marten to keynote 2024 Strategic School Staffing Summit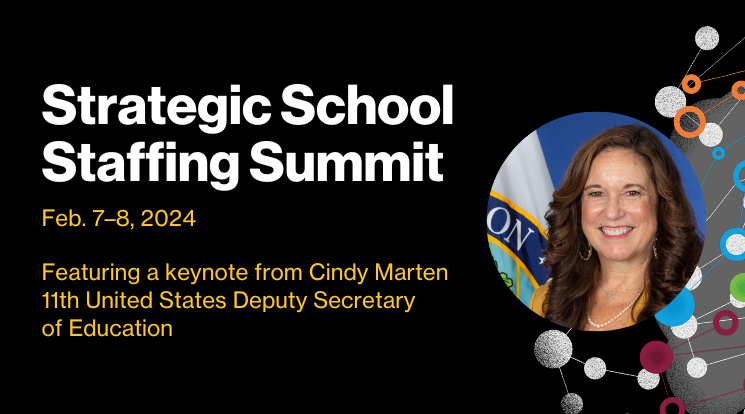 What role does strategic staffing play in the future of education? How can new approaches to teaching and learning — like those piloted by Arizona State University's Next Education Workforce initiative, and others across the country — create better outcomes for learners and experiences for educators?
Cindy Marten, the 11th United States Deputy Secretary of Education, addresses those topics and more in her keynote at the 2024 Strategic School Staffing Summit, hosted by ASU's Mary Lou Fulton Teachers College. 
The virtual summit on Feb. 7–8 celebrates innovative and practical approaches to strategic school staffing with an emphasis on ideas, strategies, practices and conditions that enable a more diverse, team-based education workforce. Now in its sixth year, the event is attended by hundreds of stakeholders from across the education ecosystem interested in elements of strategic school staffing, including:
Teams of educators with distributed expertise:

How can team-based school staffing models fundamentally change the role of educators and the student learning experience? 

Team-enabled deeper and personalized learning:

How can we build or support team-based staffing models that enable deeper and personalized learning experiences for all students? 

Differentiated roles:

How are schools formally identifying and leveraging new and differentiated roles for educators and leaders? How are those roles creating a more diverse and flexible workforce, enabling learning that is deeper, personalized and leads to more equitable outcomes for all students?

Entry, preparation and advancement pathways:

How can we develop clear pathways into teaching to ensure the educator workforce is more diverse and accessible and better represents our student populations? 

Technology:

How is technology optimizing the educator's role? 

Research & policy:

What is the research and policy — federally, nationally or locally — that supports strategic school staffing? 
Earlier this year, Marten visited Arizona schools and talked to educators working with the Next Education Workforce initiative. In this model, schools establish teams of educators with distributed expertise who share a roster of students. Educators on those teams work together to better deepen and personalize learning for their students.  
"It's pretty incredible, the way these teachers are able to collaborate together," Marten said while visiting Westwood High School in Mesa, Ariz. "What stood out for me was how when the teachers have two hours a day of planning time — what are they doing? They're planning for their students. They're not sitting around planning curriculum. They're not planning what to teach. They're planning who they teach. That is how we lead the world. That is how we raise the bar."
The Summit features presentations from some of the same educators Marten visited, along with expert-led sessions and networking opportunities. The 2024 speaker lineup includes nearly 100 researchers, educators, school and system leaders from organizations including:
American Federation of Teachers

Center for Public Research and Leadership

Chicago Public Schools

City Year

Educators Rising

InnovateEDU

Johns Hopkins University

Leading Educators

Mary Lou Fulton Teachers College

Mesa Public Schools

National Head Start Association

National Partnership for Student Success

Navigator Schools

Teach Plus

Teacher-Powered Schools

TNTP

University of Michigan

U.S. Department of Education

What School Could Be

And more; Additional speakers will be announced soon. 
Register now for just $100. The early-bird rate ends Dec. 22.
Read more about the Next Education Workforce.