Bringing Brazil to Arizona schools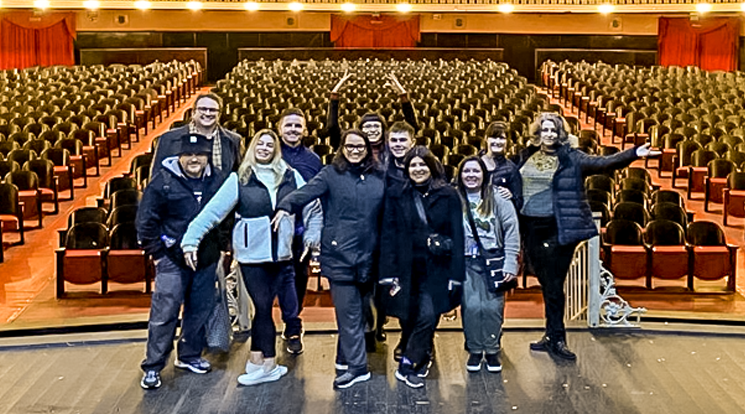 July 27, 2022
Dolores Tropiano
Brazil is a country with many parallels to Arizona. 
Both border Spanish-speaking countries. Both were influenced by the Jesuit missions. And even Arizona's iconic cowboy has a Brazilian equivalent — the gaucho.
But bring up Brazil in most Arizona schools and there may be a whole lot of head-scratching going on.
This summer, several faculty members from Arizona State University set out to change that. 
"Brazil is not typically brought in as a unit of study in Arizona schools," said Ann Nielsen, director of the Office of Global Engagement at Mary Lou Fulton Teachers College.
Nielsen, together with Glen Goodman and Gustavo Fischman, organized a four-week trip (beginning in June) to the southern part of Brazil. Goodman is the clinical assistant professor of Brazilian studies in ASU's School of International Letters and Cultures and Fischman is the professor of educational policy and comparative education at MLFTC. 
The expedition was supported by the Fulbright-Hays Program and funded by appropriations from the U.S. Department of Education. The program provides grants to K-14 teachers, administrators, pre-doctoral students and postdoctoral faculty, as well as U.S. institutions. It supports research and training in non-Western foreign language and area studies.
Goodman and Fischman led nine teachers from Osborn Elementary School and Phoenix Union High School, and one ASU doctoral student on what organizers described as a fast, intensive tour. After a 20-hour flight to the southern state of Rio Grande do Sul, the group landed, bundled up for the winter season and the adventure quickly began. 
The goal? To immerse teachers in the country's rich culture and Portuguese language, exchange ideas about education and develop a Brazil-based curriculum for Arizona schools. 
The U.S. federal and state departments and agencies have a need for individuals fluent in Portuguese.
"The Arizona Department of Education has resources for Spanish, Mandarin and French speakers," Nielsen explained. "This is an opportunity to fill the gap and support the state with resources from another location."
Seeing the similarities
Goodman, a fifth-generation Arizonan, has spent a lot of time in Brazil. Rio Grande do Sul is his area of study. He has lived there on and off for 15 years, working as a researcher and visiting professor. 
It was Goodman who isolated the interesting commonalities between Rio Grande do Sul and Arizona. He thought those parallels could provide Arizona students, 45% of whom identify as Latino, with an effective entry point to Brazilian studies.
Goodman sites the similarities in both economies, which are based, in part, on ranching communities. Both places share a strong historical presence and influence of Catholic missions. And both areas border other Spanish-speaking countries — Arizona abutting Mexico and Rio Grande do Sul alongside Argentina, Paraguay, and Uruguay. 
"I always felt that living here in Brazil made me think a lot about the Southwest," said Goodman.
Eye-opening education
The four weeks were interspersed with lectures and experiences meant to familiarize teachers with the Brazilian culture and education system. Phoenix educators were able to exchange ideas with Brazilian teachers.
Nielsen described school outings as "out of body experiences," for the teachers who distanced themselves from their own teaching and connected with the Brazilian education system. 
Fischman led the teachers to public and private, poor and prospering schools throughout the state. The Arizona teachers took on the role of student during these trips, observing approaches to education unheard of in Arizona schools.
Teachers returned invigorated. They were tasked with finishing their work on curriculum resource guides post-travel and presenting them to the ADE for approval.
"The trip provided a direct experience with how certain ideas about education translate in an actual classroom setting," Fischman said. "The college did a great service to these school districts by facilitating these opportunities."
When the group visited Escola Adolfina Diefenthäler in Novo Hamburgo, a public school and one of 50 schools nominated as the world's best school, a fight broke out between two boys on campus.
The principal didn't stop it. The teachers didn't get involved. And the Arizona cohort anxiously watched the conflict play out. Surprisingly several students broke it up, two boys talked to one of the boys, while two spoke to the other. 
On another occasion, students ages 4–18, together with their families, assembled to determine how school funds were allocated. The group observed elections where even the youngest students participated in the democratic process. 
"It was very beautiful to see these young kids electing their peers as representatives," Fischman said. "Autonomy and participation is a constant theme in many schools in Rio Grande do Sul."
"This was the most significant pedagogical lesson," Fischman continued. "Teachers trusted the students. Trust is the key word. The students were using what they learned. Living the lesson. That is always the greatest challenge."