Migration, Marginalization, and Media: Using a community-driven model for investigating mediatized forms
Farmer Education Building
The Teachers College Doctoral Council is pleased to invite you to a talk on Migration, Marginalization, and Media: Using a community-driven model for investigating mediatized forms by Dr. Ishita Tiwary (Asst Prof and Canada Research Chair at Concordia University, Montreal). Dr. Tiwary will discuss the work done by her media lab, Raah, towards investigating questions of immigration, hospitality, marginalization and its mediatized forms.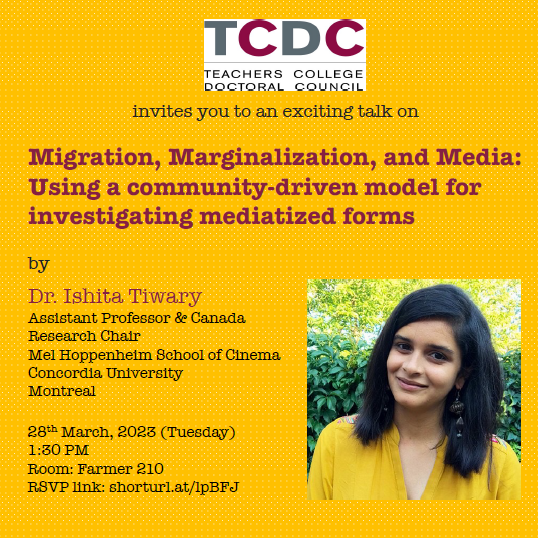 About Raah:
Raah is a newly established research lab aiming to examine the intersection of migratory processes and media practices. Taking our cue from the evocations offered by the Persian raah – which can mean ways or passage, and its underlying resonances of fellow-traveler, or companion, Raah aims to investigate the many methodological pathways open to researchers in migration and media studies. Central to Raah's project is a community-driven model, which hopes to bring together scholars, activists and community partners in a single space, becoming the first institutional hub in Canada for the study of media and migration. Raah aims to host both theoretical and practice-based research, as well as community-facing projects, in order to investigate the questions of immigration, hospitality, marginalization and their mediatized forms. Our first project, Participatory Media and Affordable Housing as Mutual Aid, is an SSHRC funded project in collaboration with the community organization Brique Par Brique, aimed to provide residents of the Parc Ex neighbourhood with the necessary training and resources to record and edit video diaries in order to document the rich histories of the community. Our second project, undertaken in collaboration with the South Asian Youth Collective aims to provide LGBTQIA2S+ members of the South Asian community with a public platform to speak about their lived experiences and access a larger audience.

About Dr. Ishita Tiwary:
Ishita Tiwary's research interests include video cultures, media infrastructures, migration, contraband media practices, and media aesthetics. She has published essays in Bioscope: South Asian Screen Studies, Post Script: Essays in Film and Humanities, Culture Machine, MARG: Journal of Indian Art, and in edited collections on topics of media piracy, video histories, and streaming platforms. She is currently working on two projects. The first is her book monograph that traces the history of analog video cultures in India through an infrastructural lens. The second research project tracks the migration of pirated media objects and people from China to India via the Nepal border through bazaar spaces. 
Location: Farmer Education Building, Room 210 or Zoom (link will be provided the day before the event to registrants)