Honoring humanity in the face of adversity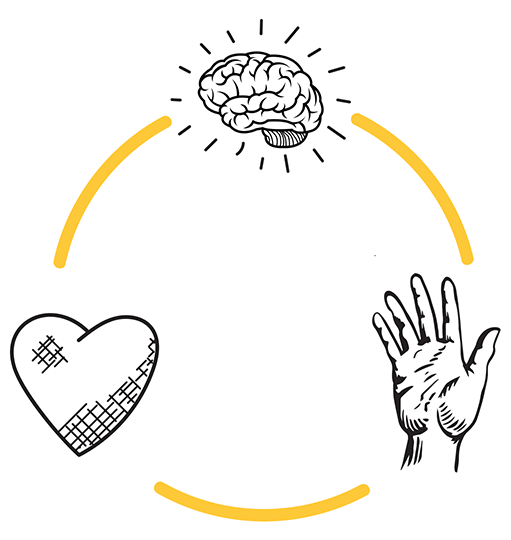 This list of resources for educators, leaders and community members is updated weekly to support well-being as we come together to respond to adversity in a way that puts the social and emotional needs of humans at the center of our solutions.
A certain amount of fear and anxiety is normal in a crisis situation, and we need to honor and value the thoughts and feelings of others as we navigate the uncertainty of this experience. As we take meaningful action to ensure the safety of all humans in our communities, we can engage our hearts, hands and minds to allow us to collaboratively care for and consider the social, emotional and physical well-being of ourselves and of others.
Gratitude for Well-Being:
One way to nurture well-being is to practice gratitude. When we cultivate gratitude, we begin to see positive effects on our physical health, on our psychological well-being and on our relationships with others. In this moment of pause, we have an opportunity to begin creating habitual practices around gratitude with some daily activities. One way you can start is by creating a gratitude journal, which seems simple and basic, but can have overwhelming benefits. Looking for something more? Take this five-day gratitude challenge from TED that also features TED Talks on the importance of each challenge. There are many practices that can be done from home, but don't forget to get creative with online and virtual options, too. Gratitude definitely has a positive effect on us, and can even have a lasting impact on our brains with many psychological benefits.
We'd love to hear about your experiences practicing gratitude. Send us an email with pictures or descriptions at pi@asu.edu and you may see it featured here!
Access more resources from the university at ASU for You — Options for every learner, at any age.
As we continue to do our best each day amid fear, worry, anxiousness, hurt and heartbreak, grasping for love and healing is critical. Access the document below to share art, readings, videos or other media that have brought you meaning. These words, songs and prayers are offerings that provide radical hope and sustenance for our minds, spirits and souls.